Machu Picchu Flights

Find your flights to the nearest airport to Machu Picchu with Alternative Airlines. We offer flights from a range of different airlines that fly to Cusco Region, where Machu Picchu is located.
---
Can I fly to Machu Picchu?
You can't fly directly to Machu Picchu but you can get pretty close. The closest airport to fly into is Alejandro Velasco Astete International Airport.
Alejandro Velasco Astete International Airport is located in Cusco, which is the gateway to Machu Picchu. It's worth noting that no matter how you plan to travel to Machu Picchu, you'll have to go to Cusco first, as this is the only city close enough to offer direct trains, minibuses and trails.
There aren't a lot of airlines that offer direct flights to Cusco from destinations outside of Peru, so it might be necessary to get a connecting flight and change over at Lima or another Peruvian city.
---
How do I get to Machu Picchu?
To get to Machu Picchu, you must first travel to Cusco with either a domestic direct flight from a Peruvian city or one of the few cities that have flights available from outside of Peru. Or, get a connecting flight to Cusco from somewhere else.
Once in Cusco, you have a few options on how to get to Machu Picchu. Each offers a different experience and price level, so you should consider which one is best suited to your travel needs.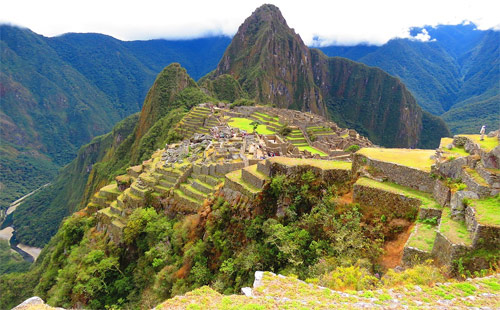 By foot
Trekking to Machu Picchu from Cusco is the most adventurous way but it's also the most body taxing and time-consuming. Trekking can take anywhere from 1–7 days and require varying degrees of fitness levels. Most trails will require you to travel in a group tour, however, you can trek some trails privately, as long as you have a ticket/permit. There are a limited number of tickets/permits available on each trail, so you'll need to make sure you get a ticket in advance.
The trek is breathtaking. So, if you have the time, fitness and budget to do it, it's highly recommended.
The most famous trek from Cusco to Machu Picchu is the Inca Trail. This trek takes around five days and is relatively difficult. Being the most popular trail also makes it the most crowded and expensive. But its popularity is well-deserved as its truly stunning.
We recommend taking a look at these alternative trails to the Inca trail and weighing up which trail is best suited to you in terms of time, money and difficulty level.
By train
Taking a train from Cusco to Machu Picchu is the fastest, easiest and arguably safest way to travel to Machu Picchu, while also offering beautiful panoramic views along the way.
There are three stations that you can get the train to Machu Picchu from — Poroy station, Ollantaytambo station and Urubamba station. Poroy Station is the closest to the centre of Cusco with Ollantaytambo and Urubamba taking around 1–2 hours drive to reach. There are two different rail providers — Peru Rail and Inca Rail — that offer different train journey, each varying in quality and price.
Take a read of this comprehensive rail guide to see which train journey is best for you.
By bus
Travelling to Machu Picchu from Cusco by bus is easily the cheapest method of transport. But it's also the least comfortable and most dangerous way to travel. It can also take the whole day to travel, which is the same amount of time as the shortest trail but without the awe-inspiring experience.
Regardless, the bus will still get you from point A to point B at a great price is a great option for budget-travellers.
You can find more information on where the buses run from and which times they operate in this Machu Picchu bus guide.