Buy Cheap Flights for Fall 2022
Fall is 1 of the 4 seasons of the year and is commonly referred to as Autumn outside of the US. The fall season can sometimes have some great flight deals as it is typically out of the high seasons for air travel. We are proud to offer the Best Fare Calendar on our booking forms to help you better plan your trip and save you money. By using the Best Fare Calendar you can easily see when is cheapest to fly, even during Thanksgiving! Not only does this tool help you to save money but our handy flexible payment methods can help you spread the cost of your Fall flights into manageable instalments with one of our Buy Now Pay Later options.
At Alternative Airlines, we currently ticket over 600 airlines including all major airlines within the US. Easily book your next flight with a mix of airlines including American Airlines, Southwest Airlines, Aeromexico and more. Start searching for your Fall flights by using the booking tool above and see who you can fly with!
---
Buy Cheap Fall Flights with Alternative Airlines
Fall usually runs from September to December with thanksgiving and Halloween festivities in the middle. Fall can be a great time of year to travel with different festivals happening, and some great beach resorts still open for some last-minute sun. Caribbean resorts such as Cancun have an average temperature of 23 Celsius (31 Fahrenheit) during Fall making it an attractive time. During this time some world-class ski and mountain resorts reopen for the season so it's a great time for travel, in a season that typically is a low one for airlines. Canada's world-renowned Whistler Blackcomb resort opens in November for the ski season. This can be great for you as airlines may offer tickets at a lower rate than what the same route may have been during summer.
Flying out of season is a great way to save some Dollars when travelling. But not all dates are created equal even during a low season like Fall. That's where our super handy Best Fare Calendar comes in to show you which dates in this season are the cheapest and best to fly for your bank balance! Use the flight search tool at the top of the page to see now!
---
Tips for Buying Cheap Fall 2022 Flights
Use our calendar to find the cheapest flight
To find your next Fall flight simply use the search tool at the top of the page. Tell us where you are planning on travelling to and your departure city. Now set the passengers and class of travel. Will you be making a one-way, return or multi-city booking? Use the Best Fare Calendar to then select your dates of travel if you are flexible. Red coloured dates mean that these are the more expensive days to fly. So you want to fly on a day coloured green for the best opportunity to get a cheaper flight.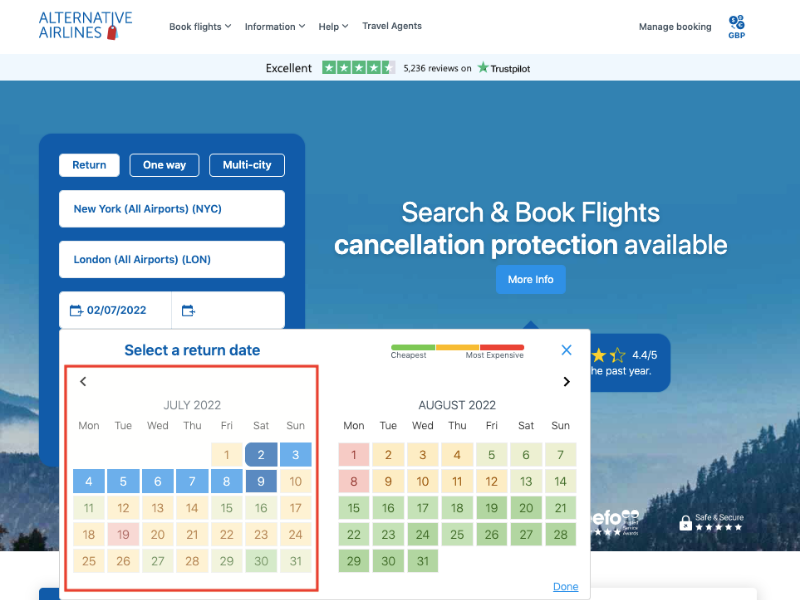 Filter by the cheapest flights
Once you have filled the search form out and hit search we'll scour all of the available options for you. You'll be able to sort all of the options by a range of filters including price. Either click the 'Cheapest' box at the top of the results list or select 'Sort By - Lowest Price' in the column on the left. By using these filters and our Best Fare Calendar, you are sure to find yourself a great deal this Fall!
Top Tip: Connecting flights aren't always the cheapest option!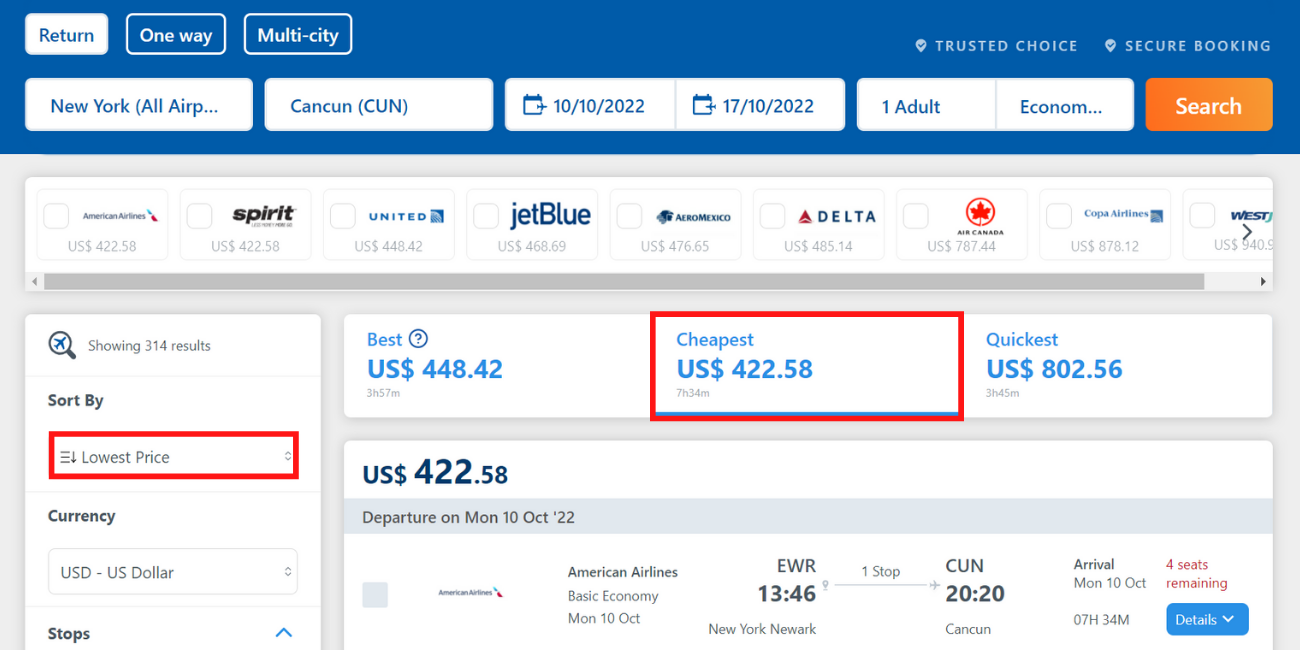 Utilise our Buy Now Pay Later and Financing Options
At Alternative Airlines we pride ourselves on offering flexible payment options. That's why we are proud to offer you some great Buy Now, Pay Later options which allow you to spread the cost of your Fall flights into manageable instalments over a set period of time. We have partnered with Klarna, PayPal Credit, Zip, Spotii, Afterpay and more to allow you to do this. To learn more about all of our payment methods visit our payments page or see what options are available to you at the checkout.
Please note that some payment options may not be available in your region.
---
How to Find and Book Cheap Flights for Fall 2022
Follow the steps below to find cheap flights for Fall 2022
STEP 1
Head to the top of the page and use our flight search tool to begin your Fall journey. Fill out all of the required details so then we can run a search and find you all of the options. Tell us where youre flying and departure city as well as passengers and travel class. Now, click the dates section and head to the months of travel you intend on flying. If you are flexible with your dates then check the colours of the dates to see if they are cheaper or more expensive. Remember that if the date is green then it means that it will typically be one of the cheaper days that month or week.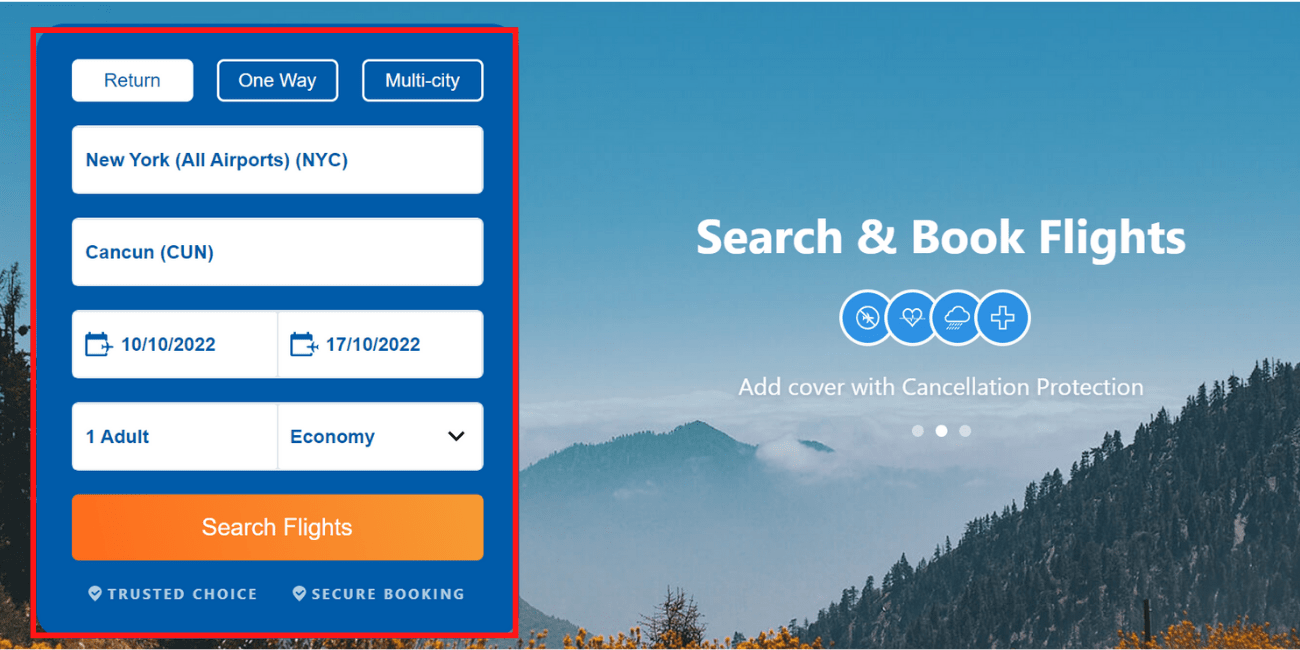 STEP 2
We'll run a search for you and find all of the available options for this route and configuration. You can now easily filter these to show the cheapest options first. Simply click the 'Cheapest' button at the top or the 'Sort By - Lowest Price' box in the left column to do so.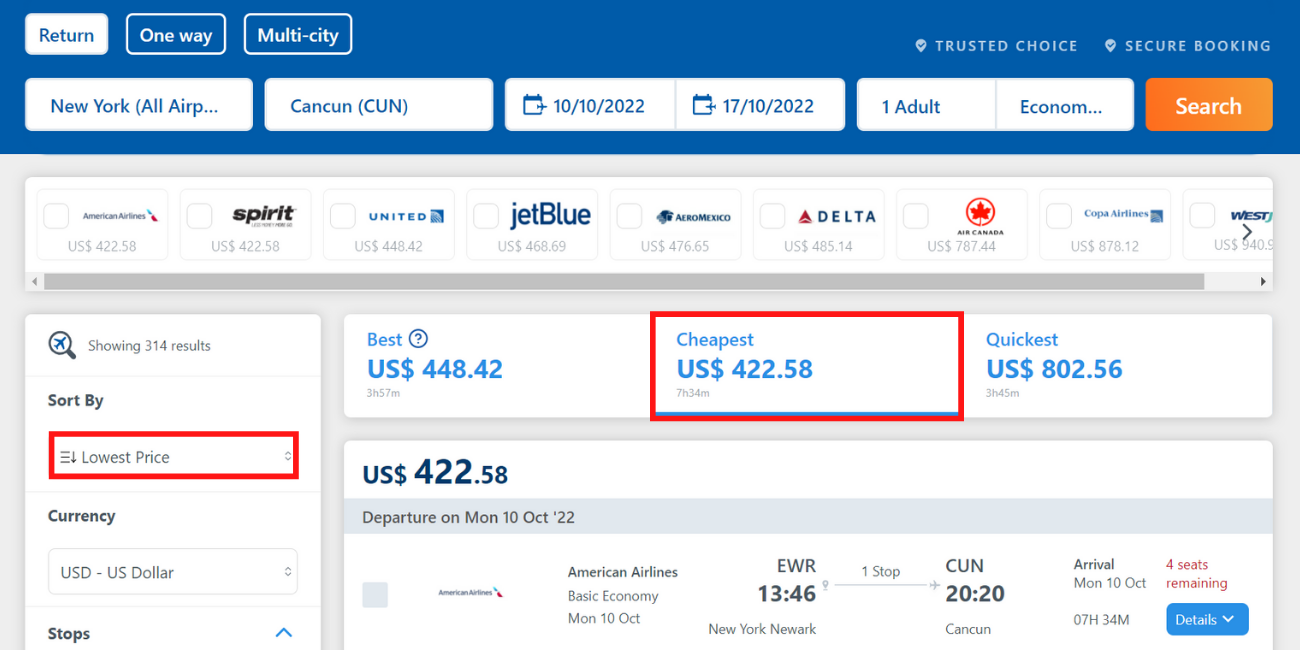 STEP 3
Once you have selected your flights, click through to the next page. Fill out all of the passenger and contact information so then we can progress with issuing your tickets. After you have done this continue down to our optional extras section. Add any additional products such as baggage, seat selection, automatic check-in, protection and more. Just want your flight? No problem, skip this section and head straight to our payments part.
At the bottom of the page, all of our payment options will be displayed for these flights. Any of the options which are shaded grey means that they are unavailable for this route or your market. We currently support over 40 different payment methods including Credit and Debit, Apple Pay, Cryptocurrency and Buy Now, Pay Later. If you would like to pay with one of our Buy Now, Pay Later options then you will need to be approved by the provider first at checkout before the booking is confirmed. You will now enter into a repayment agreement with them based on their payment policy.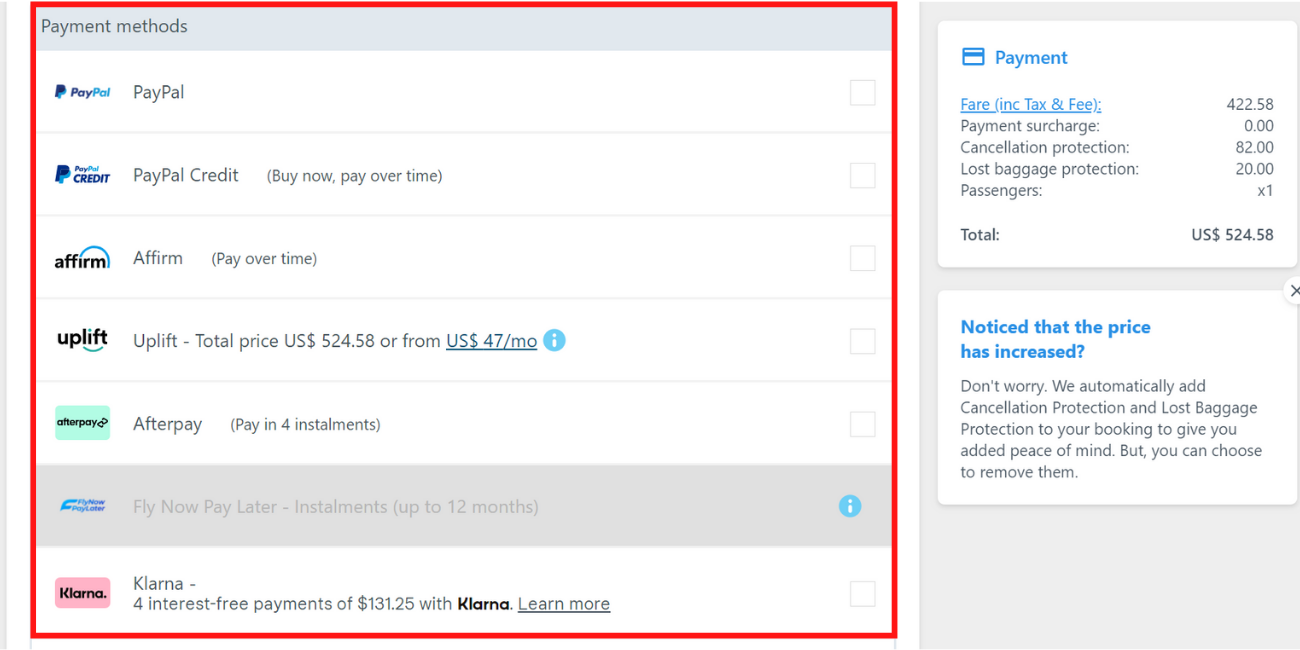 STEP 4
Enjoy the flight!
---