Cheap Flights in May 2023
Buy cheap flights in May 2023 with Alternative Airlines. When you book flights with us, you get a choice of over 600+ airlines, 40+ payment methods and can find amazing prices on every flight.
How do I find a good deal? — we hear you! That's why we've come up with some really handy ways to find the cheapest flights as quickly as possible. Follow our tips for finding the cheapest flights in May on our site and you'll be able to guarantee that you will not miss out on our best prices.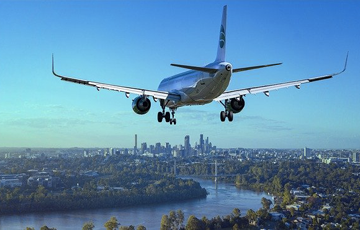 ---
Buy Cheap Flights in May with Alternative Airlines
May isn't a super-popular time to travel, nor is it the quietest time either. Therefore it's neither a particularly expensive or cheap time to fly. Of course, it does depend on where you're travelling to and from. For most of Africa, as well as places like Brazil, Mexico, the Caribbean, Thailand, China, Japan and Vietnam, May falls in their 'off-season' so you may be able to find cheaper flights by travelling to these destinations in May versus other times in the year. On the flip side, some countries, such as the UK, have May half term or other holidays that might bump up the price.
Regardless of all that, if you're booking a flight in May, you'll want to make sure that you don't overpay. At Alternative Airlines, we've got some handy tips and tools that you can follow and use to ensure you're getting the best deal, such as our cheapest date calendar and our flight search result filters...
---
Tips for Booking Cheap Flights in May 2023
Use our calendar
Not worried about when you fly in May? If you know that you want to fly at some point in May but don't mind exactly when, our calendar is really useful for finding cheap flights.
The calendar is colour-coded, with the cheapest days in green, the most expensive days in red and everything mid-ranged in yellow.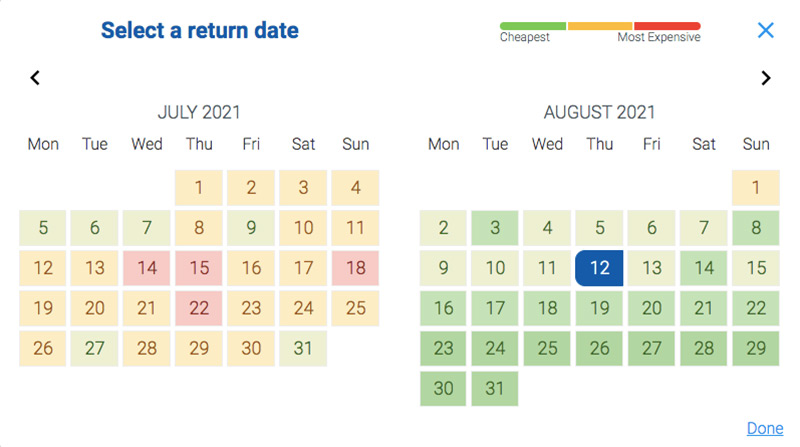 Find the lowest price
Once you've decided where and when you want to fly, the easiest way to find the cheapest flights for your search is to use the 'sort by' drop down and order the results by the lowest price.
This puts the very cheapest flight at the top of your search, with each flight gradually increasing in price as your scroll down — simple!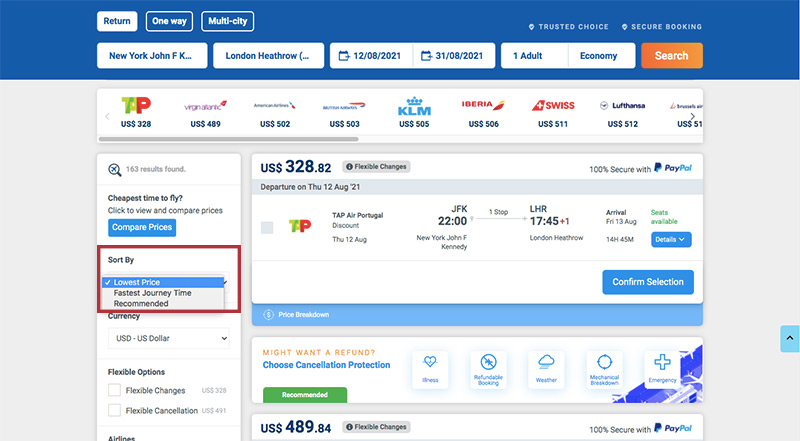 Find the airline with the cheapest flights
If you have a favourite airline, you can quickly and easily search for the cheapest flights for that airline by clicking on one of the airline logos on the banner at the top of the flight search results. This is also a great way to quickly see which airline offers the cheapest flights.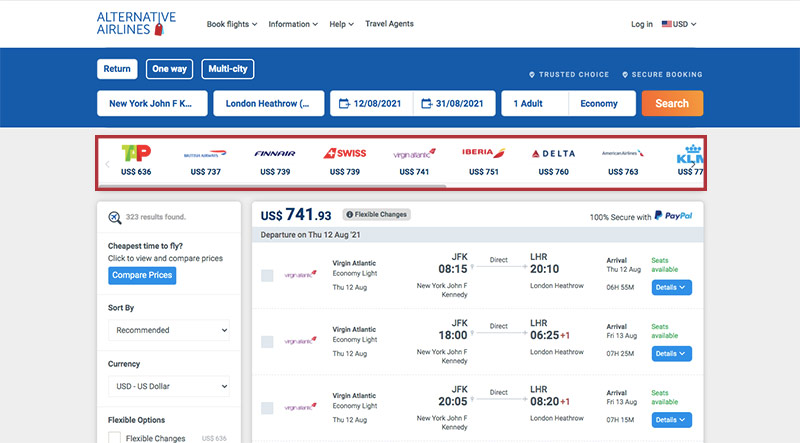 Pay with Buy Now, Pay Later or financing
While buy now, pay later or financing your flight doesn't actually make the total cost that you pay any cheaper, it can make the flight easier to pay off, plus can actually save you money by allowing you to lock in today's prices.
If you like the price of a flight today but don't have enough money to pay it off until later on, buy now pay later of financing allows you to secure your flight and pay it back on a flexible plan that is suited to you!

---
How to Find and Book Cheap Flights for May 2023
Want to know exactly how to find cheap flights for May at Alternative Airlines. Follow these 3 simple steps...
STEP 1
Decide when and where you want to fly and click 'search flights'. At this point, you can use your colour-coded calendar to find the cheapest flights (remember — all dates with the cheapest flights are in green!).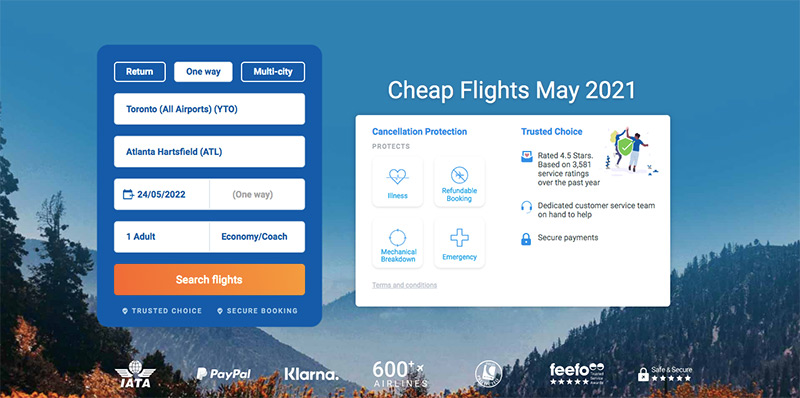 STEP 2
On the next page, we'll display all flights for your chosen search. From here, you can use our filters to view all flight options by lowest price or view the lowest prices from each airline.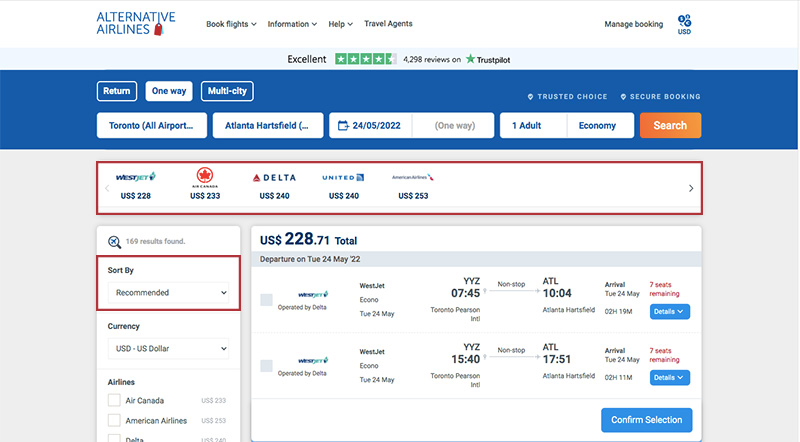 STEP 3
Once you've chosen your flight, you just need to enter some details for each passenger on the flight and select your payment method.
Here, you can select a buy now, pay later option to spread the cost of your flight over time and make it easier to pay off!