Buy Cheap Flights Autumn 2023
Are you looking to find a deal on Autumn 2023 flights? Then look no further, find out how by using our handy Best Fare Calendar we can help find you a great deal with, hundreds of airline options. Even better, we can also offer you flexible payment methods including some great Buy Now Pay Later options.
At Alternative Airlines, we pride ourselves on offering a flexible and seamless booking experience. That's why we are proud to ticket over 600 different airlines across the globe including both full-service such as British Airways or Etihad Airways as well as low-cost options like Easyjet and AirAsia. Use the flight search tool at the top of the page to find your next Autumn 2023 flights, with your preferred airline!
---
Buy Cheap Autumn Flights with Alternative Airlines
Autumn begins towards the end of September and runs up to mid-December. It is a great time of year to travel, with the changing weather can bring new experiences to the places you visit. If you decide to fly towards the beginning of Autumn you will often be able to soak up some last-minute sun in warmer climates, head to the Meditteranean, North Africa, the Caribbean or the Middle East for example where you'll have comfortable temperatures and hours of sun. Autumn is usually considered a low season for the airline industry and isn't usually as busy as to what summer is, this is great for you as it often means flights are at a more competitive price! Of course, airlines are known for still increasing prices during school holidays during all seasons, so keep that in mind when booking!
In an ideal world, it's easy to say, 'if you want a cheap flight then fly out of season'. But if you are travelling with kids for example and have to fly at certain times this can be difficult. However, continue reading to learn about our handy tool to help you find some great deals on flights, even during busier periods!
---
Tips for Buying Cheap Autumn 2023 Flights
Use our calendar to find the cheapest flight
Begin searching for your next Autumn flight by using the tool at the top of the page. Firstly, set your departure city and arrival destination as well as the passengers going and intended travel class. Now, click on the dates section to set when you want to travel. You'll notice the month and days all shaded in different colours. This can help you see when it will be typically cheaper or more expensive to travel that route. Red dates are usually the most expensive that month with the green coloured dates being the cheapest. If you can travel with some flexibility then the green days can be great for you to save some money on your flights. We love our Best Fare Calendar and hope that you will too!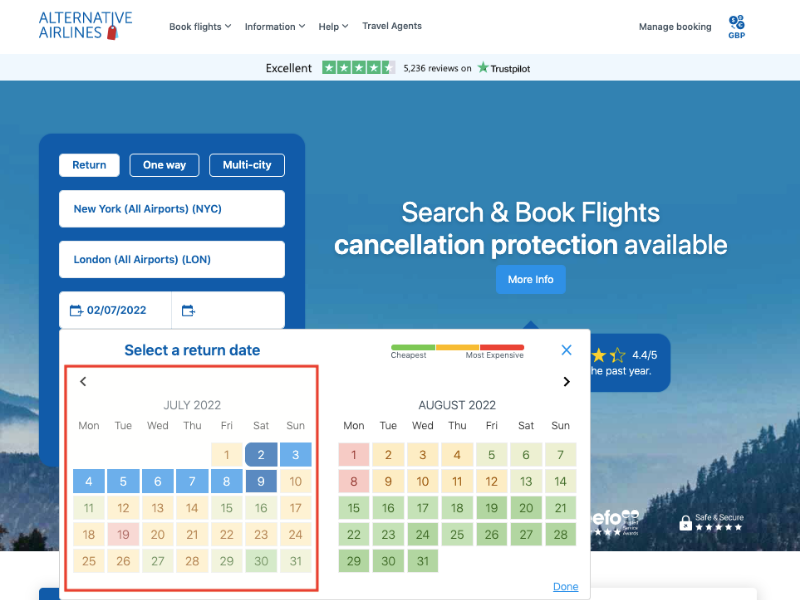 Filter by the cheapest flights
So you have picked your dates and run a search. You can now filter all of the search results by price to help you find the cheapest option. You can even add more filters such as showing only 1 airline and then sorting by price. Our handy filter options are great to help you find the flights best for your plans and best for your bank account!
Top Tip: Connecting flights aren't always the cheapest option!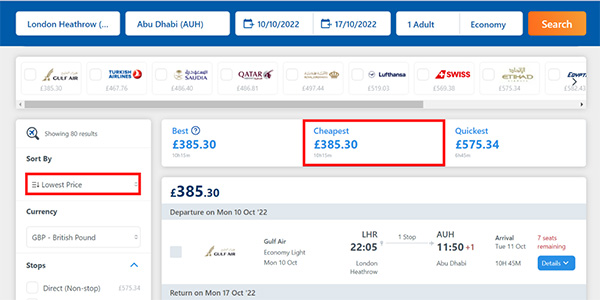 Utilise our Buy Now Pay Later and Financing Options
Want to make your Autumn flights that bit more affordable? Use one of our Buy Now, Pay Later options to easily spread the cost of your flights into manageable instalments spread over days, weeks or months. We currently accept Klarna, PayPal Credit, Zip, Spotii, Afterpay and more. Find out about the available options by visiting our payments page or see at checkout.
Please note that some payment options may not be available in your region.
---
How to Find and Book Cheap Flights for Autumn 2023
Follow the steps below to find cheap flights for Autumn 2023
STEP 1
Use the flight search tool at the top of the page and fill in all of the parameters. Let us know where you are departing from and plan on flying to as well as the dates, passenger, class type and if it's a return, oneway or multi-city. Use our colour-coded calendar to choose the cheapest dates for you. Always remember, the green dates will be the cheapest and red the most expensive.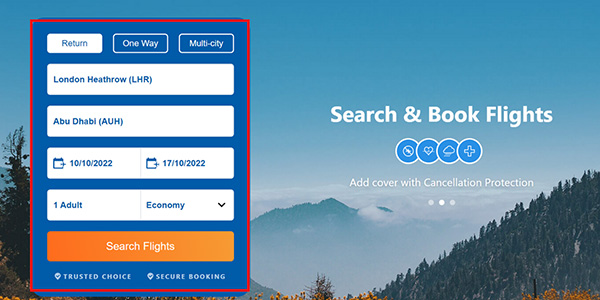 STEP 2
Now the results are displayed, either click cheapest to filter this or select sort by lowest price to the left of the page. Both options will offer the same results.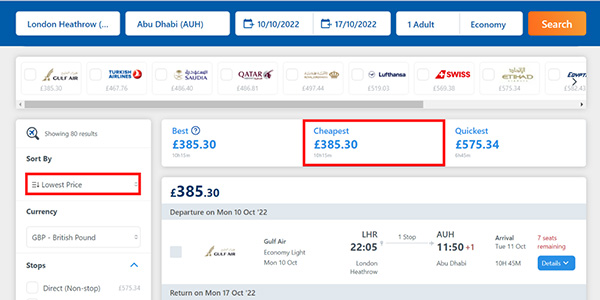 STEP 3
Now you have selected the flights, fill in all of the required passenger details. Continue down the page and add any optional extras such as Refund Protect, Seat Selection and more.
Once you have done all of this at the bottom of the page will be all available payment options. If they are shaded in dark grey then unfortunately they are unavailable for you. Choose from credit and debit, crypto, virtual wallet, Buy Now, Pay Later and more. If you select one of the latter options then once approved by the loan company you'll be able to flexibly repay for these flights as per their policy.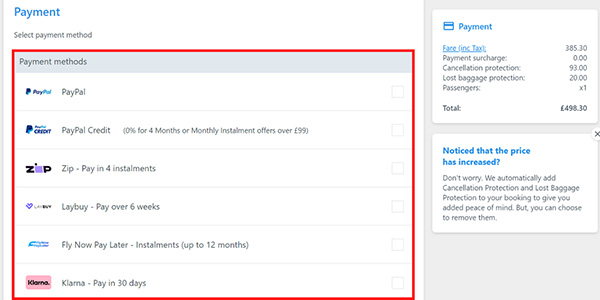 STEP 4
Sit back, relax and enjoy the flight!
---