Buy Air Canada Multi City Flights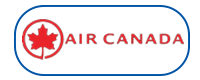 Air Canada is a popular international airline, carrying millions of passengers to Canada from countries around the world each year. But as well as international flights to Canada, the airline also operates an extensive domestic network, flying to all major Canadian cities and helping travellers explore some of the most breathtaking sights that the vast and diverse country has to offer. Because if you really want to explore all that Canada has to offer, you'll want to pack in more than one city when you visit.
No matter which Canadian city you fly to, nor which combination of cities you choose to visit — whether that's Toronto and Calgary, or Toronto and Montreal, etc — Alternative Airlines can help. This guide explains how our 'multi-city' booking tool can help you to easily search and book all of your Air Canada flights in one place.
Use the search form to find and book flights to Canada, then onwards to and between the country's top cities with Air Canada.
---
1. How to Book Air Canada Multi-City Flights
2. Why Book Multi-Stop Flights Within Canada
3. Air Canada Open Jaw Flights
4. Popular Multi-City Routes Within Canada
---
How to Book Air Canada Multi-City Flights
Alternative Airlines has a tool to make it easier to book multiple flights at the same time. You can book and manage all your flights in one place, including multi-city flights and/or onward connections, with the support of our expert Customer Service Team.
Ready to begin?
1. Using the search form at the top of the page, select the 'multi-city' search option. Enter your preferred dates and destinations, and hit 'search'.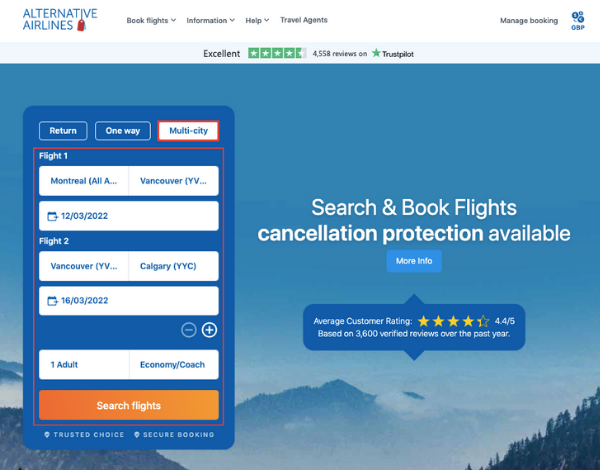 2. If you're just looking for flights with your preferred airline ('Air Canada', for example), you can use our airline filter to only view these flights. Have a browse through the search results to find the combination of tickets that best suits you.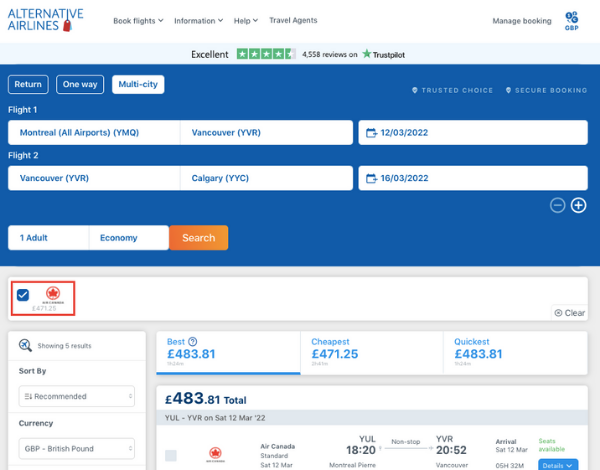 3. Once you've found the right flights, you can book them all in one quick, easy and secure transaction. It's that easy!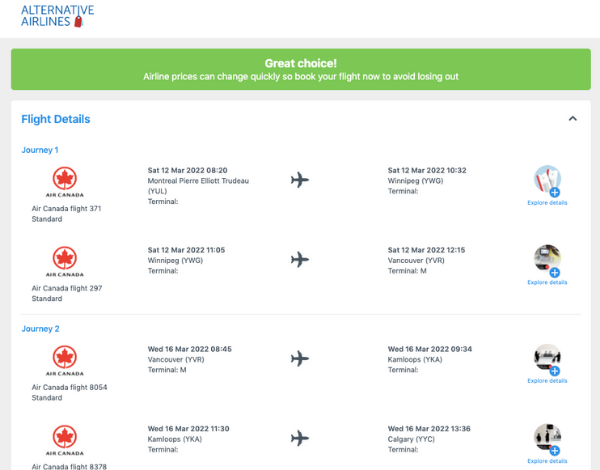 ---
What are Multi-Stop Flights?
Multi-city flights, or 'multi-stop' flights, mean that you fly between two or more cities/destinations during one trip. For example, perhaps you'll fly from the UK to Toronto, spend a long weekend exploring the city, then head onwards to Calgary — from where you can easily access some of the best National Parks in the country. Multi-city flights are different to travelling via connecting flights that include a layover, because each city is a 'final destination', before you head onwards a few days (or week or two) later.
Why Book Multi-Stop Flights Within Canada?
Whether you're flying to Canada from the US, UK, or anywhere else in the world, there is so much to see and do. From the buzzing cities to the incomparable wonder of the country's national parks. But Canada is a big country, very big. So if you want to pack-in as much as possible, catching a flight or two between cities is the best way to pack the most into your Canada trip.
Instead of visiting just one city, break up your trip and jump on a flight to pack in as many cities as possible.
---
Book Air Canada Open Jaw Flights
Open jaw flights refer to an itinerary which has an 'open' segment between two destinations. For example, say you booked the following flights:
Montreal ✈ to Toronto
Calgary ✈ to Montreal
The journey starts and ends in Montreal, but your Canadian travel itinerary has an open segment between Toronto and Calgary. You haven't booked flights for this segment, because you might be travelling between Toronto and Calgary by coach or other transportation method instead.
Alternative Airlines makes it easy to book open jaw Air Canada flights.
Your flight segments don't need to start and end from the same airports. You can easily find and book as many flights as you want, between any destinations, and book all your flights at the same time.
---
Popular multi-city routes within Canada
Below is a list of some of the most popular multi-stop flight routes within Canada:
London ✈ to Toronto
Toronto ✈ to Calgary
New York ✈ to Vancouver
Vancouver ✈ to Calgary
London ✈ to Toronto
Toronto ✈ to Montreal
Montreal ✈ to Toronto
Toronto ✈ to Calgary
---
Multi-Stop Flights in Canada
FAQs
Can I book a longer Air Canada stopover?
Using our multi-city flight booking tool is ideal if you are planning on flying two separate cities or destinations in one trip. If you want a longer layover — say a few days or a week, rather than a couple of hours — then our multi-city booking tool lets you select the dates and times of each leg.
How can I book multiple Air Canada flights?
Alternative Airlines makes it easier to find, book, and manage all of your flights in one place. Whether you're just booking flights with Air Canada, or a mix of airlines, you can book the flights for your entire journey (no matter how complex your adventure) all at the same time.
Can I pay in instalments when booking multiple flights?
Yes you can, when you book your flights through Alternative Airlines. Whether you're booking multiple flights with just Air Canada, or any other combination of the 600+ airlines that we ticket, you can book your flights today and spread the cost over time using one of our payment plan options, including Klarna, Affirm and Afterpay.
Find more more about booking Air Canada flights and paying in insalments.