Ygnus Air Tickets and Reservations with Alternative Airlines
Book Your Ygnus Air Flight Tickets and Find Some Amazing Deals
---
About Ygnus Air
Corporation Ygnus Air (operating as Cygnus Air) is a privately owned airline, offering scheduled air cargo services. The company was incorporated in 1994, founded by by Regional Airlines (France) together with the Spanish Gestair. Today, the airline is owned by ACS group.
Cygnus Air is based in Alcobendas, Spain, and is dedicated exclusively to operating regular scheduled cargo flights to destinations within Europe. Cygnus Air also offers charter flights and ad-hoc solutions to its clients, including TNT or IAG Cargo, subject to the demand of freight transport services.
The airline was founded in 1994 as Regional Líneas Aéreas, and has undergone a number of name changes (Ygnus, Cygnus Air, and Gestair; the airline has been operating under the name Cygnus Air since 2013).
The company also owns and operates a certified maintenance and repair facility.
---
Fleet
2 x Boeing 757-200PCF
---
Operating Base
Adolfo Suárez Madrid–Barajas Airport
Adolfo Suárez Madrid–Barajas Airport is the main international airport serving Madrid in Spain. The airport opened in 1928, and has grown to be one of the most important aviation centres of Europe. The airport is a hub for Air Europa and Iberia.
---
Destinations
Historical
In the past, Cygnus Air operated both passenger and cargo services to the following cities:
Havana New York Dubai Liège
Saint Dominic Kabul Frankfurt Marseille
Rio de Janeiro Delhi Tallinn Riga
Buenos Aires Dakar Nuremberg Paris
If you are searching for passenger flights to the above destinations, see our list of alternative airlines below to discover airlines that fly to the above cities!
Current
Currently, the airline flies a regular cargo service to the following destinations: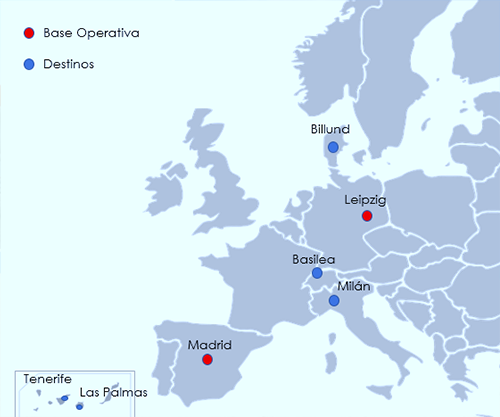 ---
Alternative Airlines
The following airlines offer passenger services: