Airlines will always try to sit children with their parents (subject to check-in)
Some airlines will allow travel for unaccompanied minors. Please email us to check.
The fare is based on the child's age on the date of travel.
More detailed information can be found here Traveling with children
Most airlines will let infants travel with their parent(s) for free. However some airlines will charge up to 10% of the adult ticket price. Click on 'Price Breakdown' to find out more.
If you are pregnant, but due before the flight departure date, please contact us once your baby is born and has a name. We can then add him/her to your ticket.
Infants will not be given a seat. The airlines expect parents to travel with them on their lap.
Airlines regard infants as being under 24 months old.
The fare is based on the child's age on the date of travel.
More detailed information can be found here Traveling with children
Uber Air
Cancellation Protection
Protects
Trusted Choice
65,000 happy customers
Rated 4.5 Stars. Based on 3,581 service ratings over the past year
Dedicated customer service team on hand to help
Secure payments
Cancellation Protection
Protects
Trusted Choice
65,000 happy customers
Rated 4.5 Stars. Based on 3,581 service ratings over the past year
Dedicated customer service team on hand to help
Secure payments


Uber Air
All you need to know about Uber Air, including updates on the cities where you can expect to be able to catch an air-Uber in the near future, aircraft information, and top FAQs!
About Uber Air
Uber Air is a new aviation project by Uber (Uber Technologies, Inc), an American multinational transportation network. Uber aims to redefine travel by developing an aerial ridesharing service between suburbs and cities.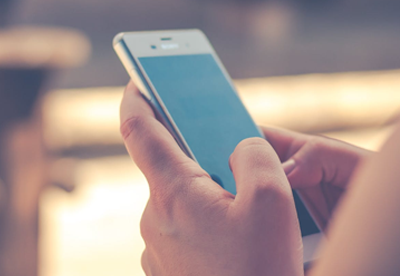 This new 'sky taxi' service will be known to riders as Uber Air.
The on-demand service will aim to reduce riders' commute times, as well as relieve city congestion.
The company is working with vehicle and ecosystem partners, including NASA and the US Army Research Laboratory (ARL) to launch a fleet of e-VTOL (electronic vertical takeoff and landing) aircraft.
The flying taxi service is being developed in Dubai, Dallas, and Los Angeles. Los Angeles and Dallas will be the first American cities to demo the flying taxi system, planned for 2020, with commercial fliers expected to be available by 2023.
The e-VTOL aircraft will fly between conveniently located Skyports. Some of the top names in design, architecture and engineering are designing these Skyports, which will be capable of handling up to 1,000 landings per hour, despite having a footprint as dense as an acre or 2.
The company is working with US federal and local policymakers to ensure the new aerieal offering is safe and environmentally conscious.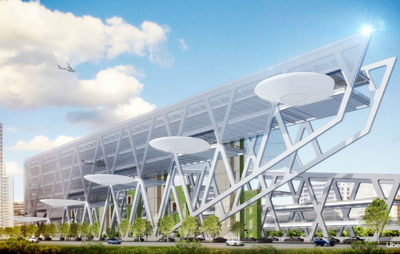 A proposed 'Skyport'. Image Credit: Uber
Uber Air Destinations
A number of international cities will also launch Uber Elevate in the near future. Uber has said that preference will be given to high density metro areas, with at least 2 million people, so that 'pooling flights' make sense. During the August 2018 Uber Elevate Asia Pacific Expo in Japan, Uber announced its shortlist for countries that it would work with to launch its aviation project. These cities include:
Tokyo, Japan
Osaka, Japan
Mumbai, India
Delhi, India
Bangalore, India
Melbourne, Australia
Sydney, Australia
Rio de Janeiro, Brazil
Paris, France
Melbourne, in Australia, has recently been announced the first international city to offer Uber flights. Further cities have yet to be announced.
Routes
During the August 2018 Uber Elevate Asia Pacific Expo in Japan, Uber presented potential city flight paths to demonstrate what it could look like when a customer orders an Uber Air flight via the app.
As an example, Uber proposed trip from San Francisco to San Jose. Uber says that the e-VTOLs would take 15 minutes to complete the journey that would take well over 2 hours by car. Here is the flight route that Uber proposed: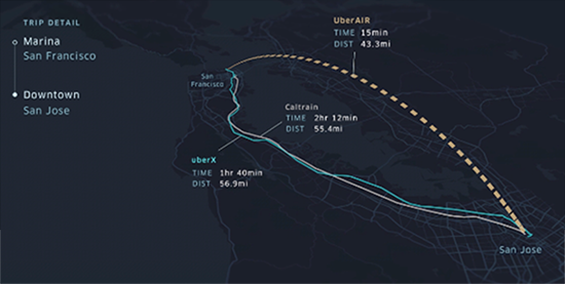 Image Credit: Uber
What airplanes will Uber use?
The flight-sharing network will be operated by a fleet of electric vertical take-off and landing aircraft (e-VTOLs).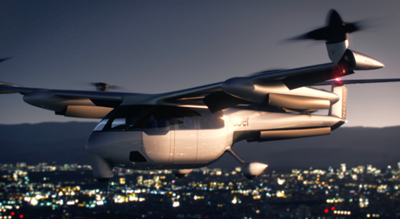 A proposed e-VTOL aircraft. Image Credit: Uber
What are e-VTOL aircraft?
E-VTOL stands for 'electronic vertical takeoff and landing' and refers to a new series of lightweight aircraft. These newly designed planes will be electric and are expected to cruise at about 150 mph and reach 2,000 feet. The planes will fly at a speed of 60 miles and operate on a charge.
A series of e-VTOL common reference models have been developed by Mark Moore, a NASA engineer who pioneered electronic pulse propulsion (DEP) and Uber's Vehicle Engineering team. These reference models have been developed around Uber Elevate's vehicle requirements and safety regulations.
Requirements include: 150 mph cruise speed; 60-mile sizing range; a capacity for one pilot and 4 riders; and a 3-hour sprint of 25-mile trips.
Uber Air FAQs
How much will an Uber Air Taxi cost?
Uber held a summit, Uber Elevate, in May 2019. At this conference, Uber's Head of Elevate Eric Allison announced that an Uber Air taxi will cost $5.73 per passenger mile. Allison said that this cost will go down to $1.86 per passenger mile; ideally, this cost will eventually go down $0.44 per passenger mile. At that point, it will become cheaper to use uberAIR than an car per mile.
When can I fly on an Uber Air?
Consumer flights are expected to start in 2023, following successful testing phases.