Siem Reap Airways is a wholly owned subsidiary of Bangkok Airways, which has domestic operations in Cambodia between Phnom Penh and Siem Reap.
---
Siem Reap Airways and Bangkok Airways
Today, Bangkok Airways flies to a total of 23 destinations (15 international)in eight countries including Bangkok, Samui, Phuket, Sukhothai, Pattaya Beach (Utapao), Chiang Mai, Trat in Thailand. In Cambodia, they fly to Phnom Penh and Angkor Wat (Siem Reap). In China destinations include Jinghong, Xi'an, Guilin, Hong Kong, Zhengzhou, Hangzhou, Shenzhenin also Luang Prabang in Laos, Yangon in Myanmar plus Singapore and Hiroshima in Japan. New services include a twice weekly service from Bangkok to the Maldives.
The network is operated by a fleet of 17 aircraft :2 x Airbus 319, 3 x Airbus 320, 4 x Boeing 717 and 8 ATR 72's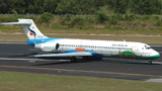 Flights to Siem Reap on Siem Reap Airways
Check out the on-line booking facility for competitive flights to Siem Reap from Phnom Penh and Bangkok for visiting the must see Temples at Angkor Wat. Bangkok Airways personifies the sort of small, caring, ambitious and progressive that we, at Alternative Airlines, urge you to support.