Search & Buy Olympic Air Flights
Airlines will always try to sit children with their parents (subject to check-in)
Some airlines will allow travel for unaccompanied minors. Please email us to check.
The fare is based on the child's age on the date of travel.
More detailed information can be found here Traveling with children
Most airlines will let infants travel with their parent(s) for free. However some airlines will charge up to 10% of the adult ticket price. Click on 'Price Breakdown' to find out more.
If you are pregnant, but due before the flight departure date, please contact us once your baby is born and has a name. We can then add him/her to your ticket.
Infants will not be given a seat. The airlines expect parents to travel with them on their lap.
Airlines regard infants as being under 24 months old.
The fare is based on the child's age on the date of travel.
More detailed information can be found here Traveling with children
Buy
Olympic Air

Flights
Olympic Air Reservations with Alternative Airlines
Make a Booking today and Find Some Amazing Deals
About Olympic Air
Olympic Air is a Greek airline and a subsidiary of the Greek airline carrier Aegean Airlines.
The combination with Aegean Airlines connects every corner of Greece, flying to 111 international destinations and 34 Greek airports, while through Star Alliance network passengers can fly all over the world.
The airline was originally formed from the privatisation of the former Greek national carrier Olympic Airlines after which the new airline commenced operations in September 2009 after Olympic Airlines ceased all operations. In October 2012, it was announced that Aegean Airlines was acquiring Olympic Air for €75 million and the latter is now a service provider for parent company Aegean Airlines. The former CEO of Olympic Aviation, founded another airline, Astra Airlines, which is based at Thessaloniki International Airport.
With a primary base in Athens International Airport "Eleftherios Venizelos" and secondary hub at "Diagoras" Airport in Rhodes, the airline performs approximately 164 flights per day, travelling to a total of 34 Greek destinations with its fleet of DASH 8 100 and DASH 8 400.
---
Frequent Flyer Program
This airline operates a frequent flyer program called Miles+Bonus to reward regular passengers. Travelair Club was the previous frequent flyer programme, launched in November 2009.
Members could earn miles on other airlines such as Delta Air Lines but also on car rentals and hotels. It consisted of three levels: Blue, Silver and Gold. On November 24, 2014 Travelair Club was absorbed by Aegean Airlines's frequent flyer programme Miles & Bonus, with appropriate status matches. Migration of status and miles from the closed program was available until June 1, 2015.
When you buy a ticket with Alternative Airlines, you can easily collect your frequent flyer points. For more information on how to do this, check out our Airline Alliance page. To find out more about the best airline loyalty programs available, check out our frequent flyer blog post.
---
Baggage Allowance
Checked Baggage
Economy Class - 1 piece of baggage of up to 23 kgs
Gold Members; - 2 x pieces of baggage of up to 23 kgs and total dimensions of 158cm.
Business Class passengers- 2 x pieces of baggage up to 32 kgs each.
Carry-on Baggage
Two carry-on bags of up to 8kg and 5kg respectively, 2 bags of up to 32 kg each; unlimited ticket changes without rebooking fees to flex and business; ticket is refundable; special check-in counters; use of business class lounges and priority baggage pick-up.
---
Check-in
Online Check-In
After you purchase your ticket with Alternative Airlines, you can check-in online from the airline's website directly. You can check-in between 48 hours and 30 minutes before departure. So even if you're a little bit last minute, you won't miss out on the benefits of checking in online! Check out our online check-in page for further details.
Airport Check-In
If passengers don't have access to online check-in or would prefer to check-in for their flight in person, they can check-in at the airport. Airport check-in closes 30 minutes before the scheduled departure time of the flight. To check-in at the airport, visit one of the check-in counters with the relevant travel documents.
Passengers can also check-in via the self-service kiosks at the airport. The self-service kiosks are available to use from 24 hours up until 30 minutes before the flight is scheduled to leave.
Please note: the self-service kiosks are only available on flights departing from the following airports:
Alexandroupoli
Athens
Thessaloniki
---
Codeshare Agreements
The airline used to have codeshare agreements with various carriers including Delta Air Lines, Etihad, Tarom and KLM. Most of the agreements were terminated once the carrier was bought by Aegean Airlines.
---
Destinations
This Greek airline serves over 30 destinations within Greece, with an additional service to Cyprus. Take a look at the table below for a full overview of the destinations that the airline flie to.
Domestic Destinations
| | | | |
| --- | --- | --- | --- |
| Alexandroupoli | Athens | Chania | Chios |
| Corfu | Heraklion | Ikaria | Ioannina |
| Kalamata | Karpathos | Kastellorizo | Kavala |
| Kefalonia | Kithria | Kos | Lemnos |
| Leros | Milos | Mykonos | Mytilene |
| Milos | Naxos | Paros | Preveza |
| Rhodes | Samos | Santorini | Sitia |
| Skiathos | Skyros | Thessaloniki | Zakynthos |
International Destinations
---
Route Map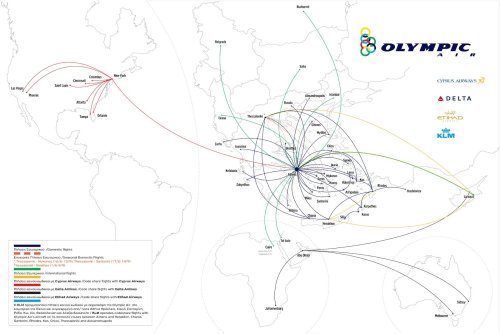 Alternative Airlines to Olympic Air
---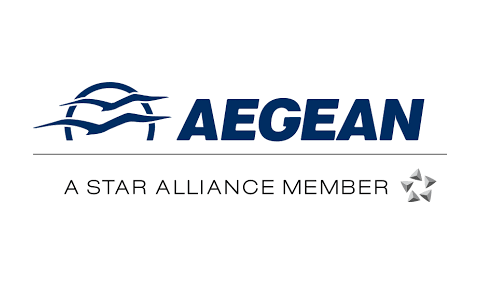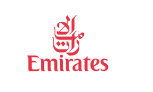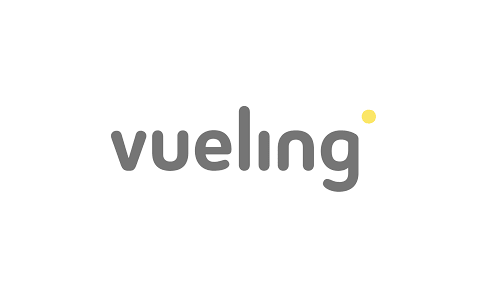 ---
Airline News
31st May 2018
Olympic Air Cancel, Reschedule May 30 Flights Due to Strike
AEGEAN and Olympic Air have announced flight cancellations and reschedules for Wednesday, May 30, due to strike action called by the Greek Air Traffic Controllers Association (EEEKE).
More specifically, air traffic controllers will hold a three-hour work stoppage between 10 am and 1 pm.
"As a result, the airlines are being forced to cancel six flight sectors which were due to operate on Wednesday, and reschedule 50 flight sectors," an announcement said.
2nd April 2018
Aegean Airlines, plans on spendig $5 billion jet order
The Greek Airline has ordered 42 aircraft worth $5 billion (4 billion euros) from Airbus, to renew its fleet of single-aisle planes and add capacity for future expansion. This is one of the largest investments made in the Greek Airline industry since the 2010 economic crisis in the country. This is the third time in under twi decades that the carrier has put money into new aircraft. Aegean signed a Memorandum of Understanding with Airbus. It said the agreement included a firm order of 30 aircraft from the A320neo family, with an option of 12 additional jets with new generation engines offering fuel savings of 15 percent. This expansion is set to go ahead between 2020 and 2025.
11th January 2018
Olympic Air Contribute towards Aegean Airline's record high in 2017
The Greek Airline group carried 13.2 million passengers in 2017, up 6% on 2016's statistics, making it a new record for Aegean. The figures include subsidiary, Olympic Air, and attributes the success to the better utilisation of its network. The load factor for the group for 2017 was 83.2%, up from 77.4% in 2016. International traffic was one of the key factors in the rise, increasing by 9% to 7.3 million. Domestic traffic also increased by 3% to 5.9 million passengers. New plans for 2018 include adding another 18 destinations to their routes and another 700,000 seats.
21st November 2017
Mykonos, Greece closes for runway upgrade works
Olympic Air (OA, Athens Int'l) has temporarily suspended its 12x weekly Mykonos-Athens Int'l service after the island airport closed for two weeks for refurbishment. According to the airport's operator, Fraport Greece, reconstruction of the runway became necessary after the previous surfacing exceeded its lifespan. Consequently, the airport closed to traffic, except for emergency helicopter services, on November 13 and will remain closed until November 29.

Olympic Air is currently the only airline serving the Aegean island located roughly halfway between mainland Greece and Turkey. Mykonos, like most of the Greek airports, sees a heavily seasonal traffic pattern - according to the ch-aviation capacity module, in total 149 frequencies weekly are scheduled for June 2018, more than a tenfold increase over the winter traffic. This number does not include a significant number of charter flights operated to Mykonos as well during the summer.

Fraport Greece, a joint-venture between Fraport and Copelouzos Group, began a forty-year concession covering fourteen Greek regional airports in March 2017. The concessionaire intends to invest heavily in most of the airports. At Mykonos, besides a new runway surface, Fraport Greece has announced plans to expand the terminal by 50%, as well as increase the number of check-in counters, security screening lanes, and departure gates.
24th April 2017
Olympic Air 1st quarter high for 2017
Aegean Airlines and subsidiary Olympic Air carried 2.1 million passengers in the 1st quarter of 2017, which is up 5% compared to 2.01 million the year-ago quarter in 2016. International passenger traffic rose 17% year-over-year to 1.1 billion. The evolution of load factors as well as pre-bookings for the summer season remains encoruaging for the full year, according to Aegean Airlines management.
13th April 2017
Olympic Air to have additional flights over Easter Weekend
Olympic Air and Aegean Airlines will make additional domestic flights over the Easter weekend to transport the "holy flame" to 17 destinations around Greece. The 2 airlines will charter 3 extra aircraft on Holy Saturday (April 15) to transfer what in the Orthodox tradition is called the "Holy Light" to Larisa, Alexandroupoli, Lemnos, Samos, Chios, Zakynthos, Kefallonia, Mykonos, Santorini, Heraklion, Ioannina, Thessaloniki, Chania, Kos, Lesvos, Rhodes and Corfu.
In April 2017, Olympic Air and Aegean Airlines announced a 5% increase in passenger traffic in Q1 of 2017. Aegean Airlines and Olympic Air recorded a 5 percent increase in passenger traffic in the first quarter of 2017 reaching 2.1 million passengers, the company said on Wednesday. Aegean said the increase is attributed entirely to the international network with the addition and maturity of destinations and the efficient penetration to international markets, leading to a 17-percent growth of international traffic to 1.1 million passengers. Domestic traffic was 6 percent lower than last year's to slightly less than one million passengers as the company adjusted the activity to soft demand with lower fares, reduced flights and hence achieving improved load factors.