Norfolk Island Airlines Reservations with Alternative Airlines
Unfortunately, Norfolk Island Airlines ceased operations in 2018. Take a look at these other airlines below that operate flights from Norfolk Island Airport to mainland Australia.
---
About Norfolk Island Airlines
Norfolk Island Airlines was a regional and domestic Australian airline based on Norfolk Island. It operated services to the Australian mainland from Norfolk and Lord Howe Islands. In 1973 the airline began serving the Norfolk Island - Brisbane route, expanding to Lord Howe Island Airport in 1976. The route between Norfolk Island and Brisbane was around 800 nautical miles (1,500 km), making it one of the longest commuter airline routes in the world.
---
About Norfolk Island
Norfolk Island is a small island in the Pacific Ocean located between Australia, New Zealand, and New Caledonia, 1,412 kilometres (877 mi) directly east of mainland Australia's Evans Head, and about 900 kilometres (560 mi) from Lord Howe Island. Together with two neighbouring islands, it forms one of the Commonwealth of Australia's external territories. At the 2016 Australian census, it has 1,748 inhabitants living on a total area of about 35km2 (14 sq mi). Its capital is Kingston. The island served as a convict penal settlement from 6 March 1788 until 5 May 1855, except for an 11-year hiatus between 15 February 1814 and 6 June 1825, when it lay abandoned. The evergreen Norfolk Island pine is a symbol of the island and thus pictured on its flag. Native to the island, the pine is a key export for Norfolk Island, being a popular ornamental tree on mainland Australia, where two related species grow, and also worldwide.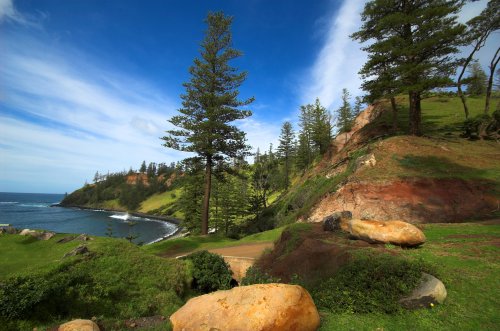 ---
Hub Airport
Norfolk Island Airport
Norfolk Island Airport is the gateway to Norfolk Island for visitors and locals alike, it is one the most important pieces of infrastructure on the island. The first runway was constructed on Norfolk Island with the assistance of the United States Air Force and the first aircraft to use it was a Lockheed Hudson bomber on the 25 December 1942. Today the Island receives five commercial operations per week from Auckland, Sydney and Brisbane. The largest aircraft regularly utilising the Airport is presently the Airbus A320 and general aviation traffic equates an annual average of 2.5 arrivals a week. In addition to regular commercial flights, the airport is crucial for medical evacuations to Australia.
Hours of Operation
7:00am - 3:00pm, Monday - Friday
Saturday and Sunday during Regular Passenger Transport (RPT) Operations.
As required by all other aircraft movements with 24 hours prior notice.
---
Norfolk Island Airlines Baggage
Check-in baggage
Economy: Each passenger is allowed one item of checked baggage, which is free up to 23kgs.
Premium: Each passenger is allowed 2 items of checked baggage, which is free up to 23kgs per bag.
Business: Each passenger is allowed 3 items of checked baggage, which is free up to 23kgs per bag.
Carry-On Baggage
All classes are eligible for 7kgs of carry-on luggage. Children under 2 are permitted 3kgs. The maximum dimensions are 55x40x23cm.
---
Norfolk Island Airlines News
16th March 2018
Norfolk Island Airlines makes its final flight
The airline was set up to ensure direct flights to New Zealand continued after Air New Zealand stopped flying that route. Prohibitive taxes meant the airline discontinued the New Zealand flights in January and the last Brisbane flight is on Saturday. The chief executive, Glen Buffett, said they found the raft of expenses resulting from Canberra's direct control of the island too onerous.