Unfortunately Moskovia Airlines ceased operations in 2014.
Please can we suggest looking at these alternative airlines that fly similar routes to Moskovia Airlines, by clicking on their logos.
---
About Moskovia Airlines
Founded in 1995, Moskovia Airlines was a Russian airline that offered passenger and cargo charter services from its base at Moscow Domodedovo Airport (DME). The airline flew both domestically within Russia, as well as offering international flights in Europe and to Asia.
When the airline launched, it initially operated cargo services under the name Gromov Air. In 2000, the airline flew its first scheduled passenger service and grew its flight network in the years that followed. In 2006, the airline rebranded and adopted the Moskovia Airlines name that it was known as at the time of retirement.
At the time of retirement, Moskovia Airlines fleet was made up of a mix of Antonov, Sukhoi, Tupolev, Yakovlev and Boeing aircraft. For its first 14 years of operation, Moskovia Airlines only operated Russian built aircraft (Antonov, Tupolev and Yakovlev) until the Moskovia acquired a number of Boeing 737s.
In summer 2014, Moskovia Airlines' air operator's certificate was suspended as a result of financial difficulties and trouble with the airline not being able to acquire enough aircraft to run the scheduled passengers services on its route network. Moskovia Airlines' air operator's certificate was terminated later in the same year.
Due to financial difficulties, Moskovia Airlines has ended all operations. The airline filed for bankruptcy at the beginning of the year, with the intention of continuing all scheduled operations. However, in August 2016, Moskovia had its air operator's certificate suspended and later terminated in December.
---

Moskovia Hub Airport
Moscow Domodedovo Airport
Moscow Domodedovo Airport is an international airport in Domodedovo, Moscow and was the hub airport for Moskovia Airlines. Moskovia Airlines operated with Domodedovo Airport as its base for its entire existence until the airline ceased operations in 2014.
Other airlines that are based or are focused at Moscow Domodedovo Airport include Red Wings Airlines, S7 Airlines, Globus Airlines, Azur Air, Komiaviatrans, Nordavia, NordStar and Yamal Airlines.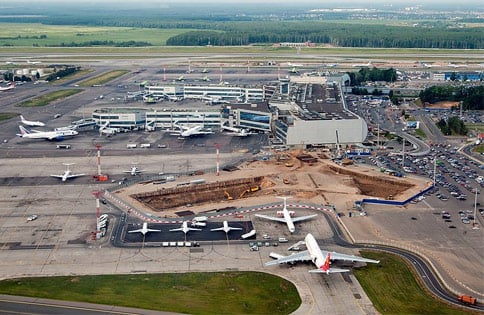 ---