Airlines will always try to sit children with their parents (subject to check-in)
Some airlines will allow travel for unaccompanied minors. Please email us to check.
The fare is based on the child's age on the date of travel.
More detailed information can be found here Traveling with children
Most airlines will let infants travel with their parent(s) for free. However some airlines will charge up to 10% of the adult ticket price. Click on 'Price Breakdown' to find out more.
If you are pregnant, but due before the flight departure date, please contact us once your baby is born and has a name. We can then add him/her to your ticket.
Infants will not be given a seat. The airlines expect parents to travel with them on their lap.
Airlines regard infants as being under 24 months old.
The fare is based on the child's age on the date of travel.
More detailed information can be found here Traveling with children
Morning Flights
Cancellation Protection
Protects
Trusted Choice
65,000 happy customers
Rated 4.5 Stars. Based on 3,581 service ratings over the past year
Dedicated customer service team on hand to help
Secure payments
Cancellation Protection
Protects
Trusted Choice
65,000 happy customers
Rated 4.5 Stars. Based on 3,581 service ratings over the past year
Dedicated customer service team on hand to help
Secure payments
Search and Buy
Morning Flights
Search for flights from a wide-range of airlines with Alternative Airlines and use the morning flight filter to see all flights departing/arriving in the morning.
What are Morning Flights?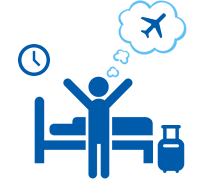 Morning flights are simply flights that depart in the morning. With Alternative Airlines, you can easily search for morning flights by using our morning flight filter.
Morning flights are particularly useful for those who like to get up and seize the day, are travelling for business or are looking for cheaper fares.
Morning Flight


Advantages
Not a morning person and wondering why anyone would want to get up for a morning flight? Here are some of the greatest advantages of buying a morning flight.
Less Chance of Delays
Because air traffic is not as busy in the morning, flight delays don't tend to start until late morning—midday. As many morning flights are the first of the day, the aircraft is already stationed at the airport, which makes the process of getting the aircraft ready for boarding a much more time-efficient process.
Cheaper fares
As many people choose sleeping over waking up early for a morning flight, many airlines' sell morning flights at a cheaper price in order to make the flight more attractive. Searching for morning flights is a great way to find a good deal!
Enjoy a more complete day
Sure, if you're not a morning person, getting up early in the morning to catch a flight when you don't need to can sound like a horrible idea. But you won't regret it once you get a whole extra half a day away. Holiday time is precious, so you might as well make the most of it!
Less busy
Airports — and sometimes the flight itself — are generally less busy when you travel for a morning flight. This means quicker check-in, less time in the queue waiting for a coffee and a generally more peaceful atmosphere!
Morning Flights
FAQs
Are morning flights better?
It depends what you're looking for in a flight. In some ways, morning flights are better. They can be cheaper, have fewer delays and are flown at times when the airport is generally less busy. However, if you're not a morning person, morning flights might not appeal to you. If you still want the benefits of a morning flight, but don't want to have to get up early in the morning, you should consider taking a red eye flight. A red eye flight is a flight that leaves at night and arrives early the next morning.
Are morning flights cheaper?
Yes, morning flights can be cheaper. Because they are flown at off-peak times, airlines sell morning flights at a cheaper rate as an incentive for customers to choose morning flights over flights at other times of the day.
Are morning flights less busy?
As there are fewer flights in general, morning flights make for a less busy experience at the airport. This can also lead to less busy flights as well. Although, sometimes, flights might be as busy as usual due to the lower prices of morning flights.
Are there fewer delays on morning flights?
Yes, morning flights are the best time of the day to fly if you wan to avoid delays. Because they're among the first flights of the day, there's less chance of previous flights taking longer than expected and causing delays.
Can you drink on morning flights?
Whether you can drink alcohol on morning flights will depend on the airline you're flying with. Most airlines do allow you to drink alcohol on morning flights. However, some airlines, such as Jet2.com have banned alcohol on morning flights. Soft drinks are available on all airlines that offer inflight refreshments.
Do morning flights have less turbulence?
You may have heard that the morning is the best time of day to fly to avoid turbulence and there is some truth to this. However, it's recommended to fly on the second flight of the day, rather than the first. This is because — as the first flight of the day — any airspace that the pilot travels through will have not been reported on since the night before.