Flying with Marijuana
FAQs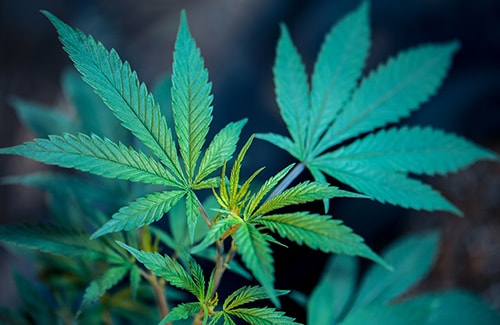 What is marijuana?
Cannabis is a psychoactive drug from the cannabis plant that is illegal in many places around the world. It is sometimes referred to as marijuana, weed, grass, ganja, dagga or green. Medical cannabis is sometimes used to treat pain, nausea, muscle spasms, anxiety, multiple sclerosis, insomnia and epilepsy.
Where is marijuana legal?
Canada recently became the second country in the world to fully legalise recreational marijuana (that's cannabis that is not being consumed for medical purposes). The first country to fully legalise recreational cannabis was South Africa in 2017. Although very few other nations have fully legalised cannabis, it is decriminalised for personal use in countries such as Switzerland, Uruguay, Ecuador, Colombia, Mexico, Belize, Spain, Portugal and the Netherlands. In the United States, the legality of cannabis will depend on individual state laws. Please see below for a map detailing the legality of cannabis according to state in the USA. In the states marked in dark green, cannabis is legal for recreational purposes; the states in blue are where marijuana is legal for medical use.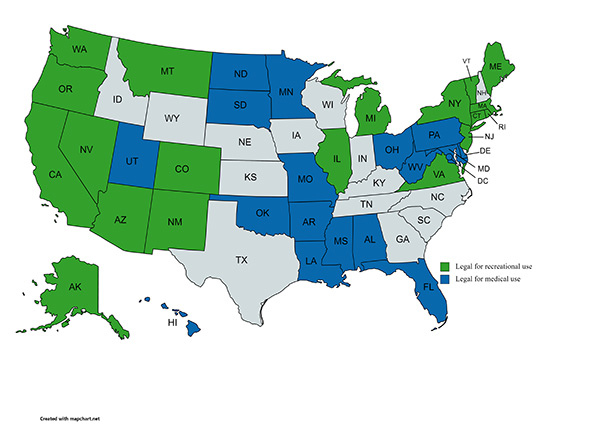 Can I fly with marijuana between legalised states in the US?
Although the sale of recreational marijuana is allowed in certain US states (see above), cannabis is still an illegal drug according to federal law (the law that governs the country as a whole). This means that flying with marijuana is illegal, even between legalised states. Therefore, if cannabis is found on a passenger at airport security, even if the drug is legal in that state, the airport may be required to contact local law enforcement. The law enforcement officer will then verify if the cannabis is within the state-legal amount and then decide whether to take the case any further.
Can I fly with marijuana between the US and Canada?
Even though recreational marijuana consumption is legal in many parts of the United States and Canada, it remains illegal to fly with cannabis across the Canadian border. This rule applies even if you're authorised to use cannabis for medical purposes and regardless of the quantity of cannabis you're flying with.
Can I travel with medical cannabis within California?
Los Angeles Airport (more commonly known as LAX) has recently announced that it will allow passengers to travel through the airport with small amounts of marijuana (for both medical and recreational purposes) in their carry-on baggage. The marijuana must be in line with the regulations outlined in Proposition 64, which states that individuals over 21 years old are able to possess up to 28.5 grams of marijuana for personal consumption. As mentioned before, it is important to be aware that flying with cannabis is still illegal under federal law in the USA. This means that cannabis cannot be transported to any other state even if the drug is legal in the state you are traveling to. Airport security may also call law enforcement to verify that the quantity of marijuana is within the state-legal amount.
Can I travel with medical marijuana within Canada?
Officials at Montreal's Trudeau airport recently announced that passengers flying on domestic flights within Canada are able to travel with up to 150g of medical marijuana, as long as they have their medical certificate on their person. Passengers flying with medical marijuana should be prepared to show their medical documentation if they are flying with a quantity of medical marijuana that exceeds the recreational cannabis limit (30g or 100ml of cannabis oil). If the quantity of cannabis the passenger is flying with exceeds the legal limit, airport authorities will be required to contact the police. Passengers are prohibited from flying with marijuana of any kind (including edibles) out of the country, even if the country they are travelling to has legalised cannabis. It's recommended that you pack all medication in your carry-on baggage where it is easily accessible at security. To find out more about flying with different medicines and medical conditions, please visit our passenger services page. If you have recently had surgery and are wondering if you are fit to fly, please visit our flying after surgery page.
Can I fly with marijuana in a checked bag?
According to the TSA (Transportation Security Administration) in the USA, flying with cannabis in a checked bag remains illegal under federal law in the USA. In Canada, however, the Federal Transport minister recently announced that passengers flying domestically within Canada are able to carry up to 30g of marijuana (or 100ml of cannabis oil) for personal use. It's important to be aware that it is still illegal to transport cannabis over the Canadian border, even if flying with medical marijuana. For more information on the items you can take in your luggage, visit our blog on prohibited items.
What are the rules for flying with marijuana in Canada?
In the majority of countries around the world, it is illegal to fly with cannabis under any circumstances. For flights within Canada (where cannabis is now legal) the transport authority has recently announced that, from October 17th 2018, passengers will be able to fly with up to 30g of cannabis (100ml of cannabis oil), or up 150g of medical cannabis, in their checked baggage. However, as cannabis has only recently become legalised in Canada, the rules and restrictions surrounding flying with cannabis are still being developed and may be subject to change. Please be aware that it remains illegal to fly with cannabis over the Canadian border under any circumstances.
Is it legal to fly with edibles?
Edibles are any kind of food or drink that has been infused or made with cannabis products. Flying with edibles is illegal in the United States, the United Kingdom, the Netherlands and most countries around the world. On domestic flights within Canada, flying with up to 30g of cannabis products (including flying with edibles) is legal, provided the marijuana is kept in your check baggage and is solely intended for personal use. Please note it is strictly against the law to fly with edibles over the US/Canadian border (even if the state you are flying to in the US has legalised marijuana).
What are the consequences of flying with marijuana?
The penalty for flying with cannabis in countries where the drug is illegal will vary greatly according to that country's drug laws. In some countries, even transporting a small amount of marijuana with you across a national border will be treated as drug trafficking. In the UK, being found in possession of cannabis can result in up to 15 years in prison and an unlimited fine. In Japan, drug sentences can be much more severe. In Iran, Saudi Arabia and Taiwan, drug smuggling can be punishable by death.
Want to know if it's legal to fly with wine? Visit our page on flying with wine and alcohol.
Can you fly with edibles?
Much like cannabis, flying with edibles is currently strictly illegal according to TSA guidelines. Although there are exceptions for specific FDA-approved medicinal products that contain less than 0.3% THC, this doesn't apply to edibles. Since marijuana/cannabis is illegal to possess on a federal level, it's not recommended that you attempt to bring edibles with you on your flight. If edibles are found in any of your carry-on or checked baggage, the officer who found the cannabis has the responsibility to report you to law enforcement.
Can you take a vape on a plane?
Yes, but only a disposable vape device. If your vape device doesn't contain any traces of marijuana/cannabis, you're allowed to pack it inside your carry-on luggage or pocket. Packing a vape device inside checked baggage is strictly prohibited due to the lithium batteries being a fire risk. The vape juice will count towards your 100ml liquid allowance. Vaping on the plane is currently not allowed however this may vary depending on the airline and will need to be double-checked before your flight.
---
Can I fly with marijuana-related products?
COUNTRY
Is it legal to fly
with medical cannabis?
Is it legal to fly
with a cannabis vape pen?
Is it legal to fly
with cannabis oil?
The United States
No
No
No
Canada
Up to 150g within Canada.
Up to 30g within Canada.
Up to 100ml within Canada.
The Netherlands
No
No
No
---
Flying with Marijuana
News
19th October 2018
Vancouver Airport Allows Passengers to Smoke Weed in Designated Areas
After the announcement that cannabis will be legalised in Canada on 17th October 2018, Vancouver Airport have now announced that passengers will be able to smoke cannabis in designated areas outside the airport. As usual, the areas inside the airport will remain smoke and vape-free. According to the Canadian Transport Authority, Canadian passengers are able to transport small amount of cannabis for personal consumption on domestic flights. It is strictly forbidden to take cannabis, or any other controlled substance, on flights outside of the country.
---
Important:
Please note that the information on this page does not constitute as legal advice.
The content of this page was correct at time of writing, but the laws and regulations of the countries and states listed on this page may have changed since the content on this page was written/updated.
We strongly advise that you do your own research into the laws of the country you visit - most airlines will be able to advise you on the most up-to-date information on cannabis rules for the countries and states that you will be flying to and from.