Airlines will always try to sit children with their parents (subject to check-in)
Some airlines will allow travel for unaccompanied minors. Please email us to check.
The fare is based on the child's age on the date of travel.
More detailed information can be found here Traveling with children
Most airlines will let infants travel with their parent(s) for free. However some airlines will charge up to 10% of the adult ticket price. Click on 'Price Breakdown' to find out more.
If you are pregnant, but due before the flight departure date, please contact us once your baby is born and has a name. We can then add him/her to your ticket.
Infants will not be given a seat. The airlines expect parents to travel with them on their lap.
Airlines regard infants as being under 24 months old.
The fare is based on the child's age on the date of travel.
More detailed information can be found here Traveling with children
Flying During Menstruation
Cancellation Protection
Protects
Trusted Choice
65,000 happy customers
Rated 4.5 Stars. Based on 3,581 service ratings over the past year
Dedicated customer service team on hand to help
Secure payments
Cancellation Protection
Protects
Trusted Choice
65,000 happy customers
Rated 4.5 Stars. Based on 3,581 service ratings over the past year
Dedicated customer service team on hand to help
Secure payments
Flying While On Your Period
Heading on holiday can be the cause of a lot of anxiety, not just the immensely stressful process of getting through the airport and remembering to pack everything, but waiting to see whether you'll suddenly come on your period right before you're due to board a plane for 6+ hours, stuck between strangers and strapped in that uncomfortable seated position.
No hot water bottle and no snuggly blanket — just the likelihood of an airplane induced headache. But there's no reason to let your period stop you from enjoying your holiday, starting with the journey there. Check out our top tips to make flying while on your period much more comfortable!
Are you a woman planning a solo trip? Take a read of our blog on top tips for solo travellers.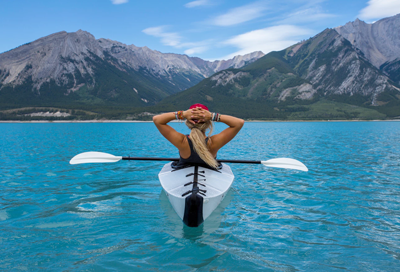 Flying While On Your Period


All You Need To Know
Does flying affect menstruation?
Are delayed periods after a trip only a myth, or can travelling actually affect your menstrual cycle? It isn't uncommon for the menstrual cycle to be disrupted by flying, so there is no reason to worry if your flow if different as a result of flying.
To your body, 'stress' is anything that throws its systems out of their usual routine and subtle changes to your daily pattern, such as waking up really early one day and then sleeping late the next night, or getting anxious about an upcoming trip, can have a small impact on your melatonin and cortisol levels — the two primary hormones that control your cycle. When the levels of either melatonin or cortisol changes, your ovulation schedule can shifts, meaning your period might arrive later or earlier than expected.
This is even more true if you're travelling to a different time zone or country — one of the biggest causes of changes in the menstral cycle when flying is the result of changing time zones. Jetlag can wreak havoc on your cycle, impacting you physically in many different ways. Jetlag can make it had to fall asleep and maintain your sleep routine, and cause digestive issues and disorientation.
It takes time for your body tries to adjust, can this can all impact your cycle.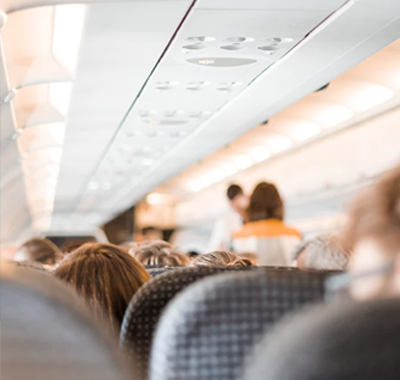 Should I be worried if my menstrual cycle changes after flying?
It is normal for the menstrual cycle to change slightly after travelling, but if you have any concerns, speak to your doctor.
It is important to note that when your menstrual cycle changes, this can affect your fertility, meaning you may become fertile at a different time during the month. For women who take the pill as their form of contraception, be sure to consult your doctor before you travel to discuss the timing of your contraception while away.
Flying While On Your Period


Top Tips
Follow these top tips to ensure you are as comfortable as possible when flying while menstruating:
1. Pack a Period Travel Kit
Be sure to pack all the tools you rely on to combat period cramps and discomfort. Even if you are not expecting to come on your period while you're away, be sure to pack what you might need just in case — you might find that you come early. Pack your painkillers, ibuprofen, heating pads, spare pants and a mix of tampon/pad sizes, so that you're covered no matter your flow.
2. Drink Lots of Water
It is always important to drink lots of water when flying, but this is especially true if you are on your period. Top Tip: bring a refillable bottle and ask your flight attendant to re-fill it, whether from their on-board supply or via the water fountain, if available on your plane.
3. Book an Aisle Seat
This is a good idea on any long-haul flight. You'll be drinking lots of water and the last thing you want is to be jammed in and feeling too uncomfortable to ask everyone to manoeuvre out of the way so that you can access the washroom.
Top Tip: When you book your flights through Alternative Airlines, it is easy to pre-book your seat!
Flying While On Your Period


FAQs
Is it safe to fly during a heavy period?
There are no health risks associated with flying when experiencing a heavy period. Some believe that the air cabin pressure can cause your period to become lighter during the flight, followed by a heavier flow after landing. Keep your products with you and be prepared — take a look at our top tips above for more ideas on how to make the journey more comfortable. Perhaps consider the products you currently use — did you know, a menstrual cup holds three times as much fluid as a super tampon? The main thing is that you are comfortable and maintain healthy hygiene practices, including changing your pads/tampons and emptying your menstrual cup when necessary, throughout your long flight. For added protection, why not wear a pair of period pants as well.
Remember, if you are worried about your flow, speak to your doctor.
Can I bring sanitary pads on a plane?
Yes you can bring sanitary products, including sanitary pads and tampons, onto a plane. It is a good idea to carry any products you might need in your carry-on and ensure they are easy to access.