Buying Airline Tickets at the Airport
The way that we find and book airline tickets has changed significantly. Rather than walking into a travel agent, the majority of travellers now book flights online. Another way of booking tickets, which has become almost obsolete, is to book your flights at the airport kiosk. Although many might not even consider this as an option, rumours can still circulate that this is a good way to get a bargain. So, truth or myth? Keep reading to find out whether you can save money by booking your tickets at the airport.
It's cheaper to buy airline tickets at the airport — truth or myth?
The belief that it must be cheaper to book flights at the airport revolves around the idea of cutting out the middleman. Because by walking up straight to the airline kiosk, it makes sense that you'll be able to grab a cheap last-minute seat on a flight that is just about to depart, right?
Unfortunately, this is not the case. The theory does not reflect the way that airlines now operate. If you're looking to bag a cheap last-minute flight, it is likely that you will be shocked by the high price that you are quoted at the airport kiosk. In fact, there are no advantages to buying an airline ticket at the airport. After queuing at the airport kiosk, you may even be told that to book a ticket, you'll need to go online to the airline's website. In the past, many would have queued at airport kiosks to book tickets. But today, staff at kiosks are there to assist customers with checking-in or to provide information and help when flights are delayed or cancelled.
So, save yourself a lot of time, stress and even money by booking your flights online before you head to the airport. If you're looking for the easiest, quickest and most affordable way to book flights, Alternative Airlines can help.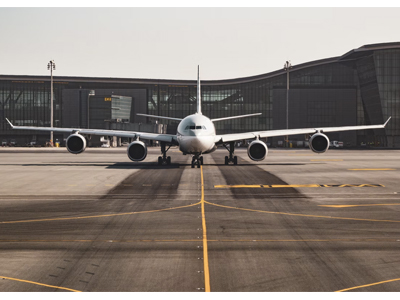 ---
Conclusion: Buy Your Tickets Online
Our conclusion is short: yes, you can book your flight tickets at the airport for some airlines; but, it will be significantly cheaper, easier and more convenient to book your flights online instead. Again, in some instances you may arrive at the airport kiosk to be redirected to go online to book your flights yourself anyway.
Use this guide to find out more about how you can save yourself money by booking your tickets online through Alternative Airlines.
---
Benefits of Buying Airline Tickets Online
There are lots of benefits to booking your flights online through Alternative Airlines instead of at the airport.
Book Early to Save
Today, the price of flights can increase significantly the closer that it gets to the time of departure. So if it's the best prices that you're looking for, rather than booking last minute at the airport, your best bet is to book as early as possible. And this will only be possible by booking online.
600+ Airlines and More Flight Options
If you go to the airport to book your flights, you'll only have a very limited choice of departing flights. However, if you book beforehand through Alternative Airlines, you'll have much more choice. Whether you're flying domestically or internationally, choose from more airline options per route, including connections and transfers. Browse options and compare flights.
No matter where you want to fly to, we make it easy for you to find the flights that you want. Enter your departure and arrival airports into the search form at the top of the page and we'll show you all available flight options.
Use Filters to Find Your Perfect Flights
Another major benefit of booking your flights online through Alternative Airlines is the ability to use our search filters to find the exact flights that you're after. Whether you want to fly directly rather than with a stop or view the cheapest flights first, there are lots of ways that we can make it easier for you to find the flights you want.
Receive Your Tickets Instantly
In most instances, we issue tickets automatically, meaning that your e-tickets will arrive in your inbox as soon as your booking is complete. In some cases it can take a little longer. But we always issue tickets within 24 hours and will keep you informed along the way.
More Ways to Pay - Including Buy Now, Pay Later
If you go to the airport to buy your flights, it's likely that you'll be very limited in the ways that you can pay. But here at Alternative Airlines, we offer a range of flexible and convenient payment options, from Visa and Debit to PayPal and a range of buy now, pay later instalment options. Spread the cost of your flights over a fixed number of weekly or monthly instalments. Including interest-free!

Find out more about all our payment options
Excellent Customer Service
Whether you have a question before, during or after you make your book, our expert Customer Service team is here to help. If you need to make an amendment or change your flights, simply let us know and we'll contact the airline and sort it out on your behalf. Visit our Contact Us page to find out more.
---
FAQs
Is it cheaper to buy airline tickets at the airport?
Unfortunately, if you're looking for a bargain, you'll unlikely find it by heading to the airport to buy last minute flights. Booking your flights online and in advance is the best way to compare flights and find the best prices. There are also lots of other ways to make booking flights much more affordable if you book through Alternative Airlines. Spread the cost with one of our payment plan options. Although this won't make the cost cheaper, spreading the payment over time can make it much easier to manage your finances.
Where can I book flights online?
Through Alternative Airlines! If you're looking for a simple, clear and easy way to book your flights online, you've come to the right site. Easily search, compare and book your flights with any airline while adding everything that you need (including seat selection and baggage) all in one place. If you have any questions, our expert Customer Service team is also always ready to help.