Search and Buy Cheap Azimuth Airlines Flights
Make an Azimuth Airlines Booking and Find Some Amazing Deals
---
About Azimuth Airlines
JSC Azimuth Airlines, simply Azimuth Airlines or Azimuth, is a Russian airline based in Southern Russia, primarily Platov. It was founded in February 2017 with its headquarters in originally in Krasnodar but later re-registered to its current location of Rostov-on-Don, Russia.
The airline currently offers domestic flights to destinations across Russia, but future plans include some international flights to Armenia and Kyrgyzstan. They currently operate their services from their fleet consisting of 8 x Sukhoi Superjet 100.
---
Azimuth Airlines Baggage Allowance
Carry-on Baggage
Azimuth Passengers are permitted 10kg of carry-on baggage for their Azimuth flights. The dimensions of this must not exceed 115cm, or 55 x 40 x 20cm.
Checked Baggage
Items checked into the hold luggage for Azimuth flights must fit the dimensions of 203cm for the sum of the three dimensions. Checked baggage allowance is dependent on the fare booked, as follows:
Light - no baggage allowance
Efficient / Optimal / Leisure - 1 piece of checked baggage, weighing no more than 23kg
Comfort - 2 pieces of checked luggage, weighing a maximum of 23kg each
---
Azimuth Airlines Check-In Information
Online Check-In
Azimuth Airlines offer their passengers the ability to check in online prior to their flight. This service opens 24 hours before flying, closing 3 hours prior to flying. The link to Azimuth online check-in can be found here.
Airport Check-In
Passengers who have not checked in online must do so at an Azimuth Airlines airport check-in desk. The check in desk will open 2 hours before departure, closing 40 minutes prior to scheduled departure time, unless otherwise stated.
---
Hub Airport
Platov International Airport
Platov International Airport is the international airport located near to Rostov-on-Don, Rostov Oblast, Russia. It was built as a replacement to the Rostov-on-Don Airport, and started services from the airport in December 2017. The airport has a capacity of over 1 million passengers, and currently has 2 passenger terminals, with one solely built for VIP passengers.
The airport is currently only a hub for Azimuth, but is the focus city for Azur Air, Pobeda, Rossiya Airlines, Royal Flight and Ural Airlines.
---
Book flights in English
Passengers can book their Azimuth Airlines flights in English when you choose to book with us, Alternative Airlines! Whether you want a English website and booking process, or English-speaking customer service team, Alternative Airlines can provide this for you.
---
Destinations
Azimuth currently only fly to domestic locations within Russia, but there is plans to expand this service internationally to include Armenia and Kyrgystan.
Saint Petersburg
Moscow
Rostov-on-Don
Krasnodar
Sochi
Makhachkala
Grozny
Mineralnye Vody
Stavropol
Samara
Kazan
Nizhny Novgorod
Ufa
Yekaterinburg
Omsk
Novosibirsk
---
Route Map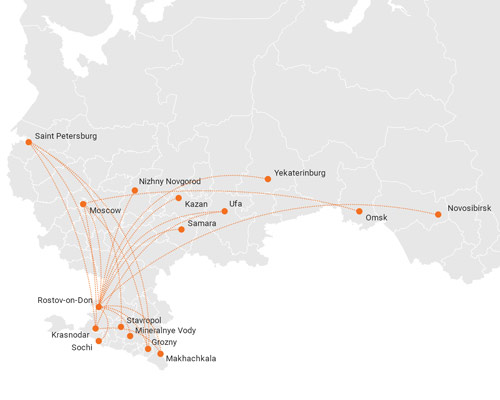 ---
Fleet
Sukhoi Superjet 100
---
Alternative Airlines
Please click on the logos below to find out more about airlines that fly similar routes to Azimuth Airlines: