Airlines will always try to sit children with their parents (subject to check-in)
Some airlines will allow travel for unaccompanied minors. Please email us to check.
The fare is based on the child's age on the date of travel.
More detailed information can be found here Traveling with children
Most airlines will let infants travel with their parent(s) for free. However some airlines will charge up to 10% of the adult ticket price. Click on 'Price Breakdown' to find out more.
If you are pregnant, but due before the flight departure date, please contact us once your baby is born and has a name. We can then add him/her to your ticket.
Infants will not be given a seat. The airlines expect parents to travel with them on their lap.
Airlines regard infants as being under 24 months old.
The fare is based on the child's age on the date of travel.
More detailed information can be found here Traveling with children
Search and Buy Air Canada Red Eye Flights
Cancellation Protection
Protects
Trusted Choice
Rated 4.5 Stars. Based on 3,581 service ratings over the past year
Dedicated customer service team on hand to help
Secure payments
Cancellation Protection
Protects
Trusted Choice
Rated 4.5 Stars. Based on 3,581 service ratings over the past year
Dedicated customer service team on hand to help
Secure payments
What are Red Eye Flights?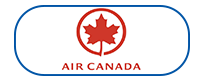 Red eye flights, also known as overnight flights, are commercial flights departing late at night and arriving early in the morning of the next day. The 'red eye' terms originates from when passengers get red eyes after feeling tired and restless when travelling late at night or early in the morning. Flights that are considered 'red eye' are popular with business travellers who don't want to miss a day of work and holiday-makers who want to keep all of their travelling for the night time in order to make the most of their trip.
At Alternative Airlines, searching for red eye flights with Air Canada is super easy! Using our search form at the top of the page, you can easily search for and filter our red eye flights with any airline of your choice, even Air Canada. You'll also be able to compare flight times and prices between different red eye flights. Red eye flights usually last between 4-6 hours, however, if you're looking for shorter or longer red eye flights, you can find flight lengths that suit you when searching through Alternative Airlines.
Use our search bar at the top of the page to start searching for red eye flights with Air Canada.
---
How to Book Red Eye Flights with Air Canada
STEP
1
Firstly, at the top of the page, use the search form to enter your departure and arrival destinations, the day(s) you plan to travel, how many passengers will be flying and what cabin class you'd like to travel in. When you're ready, hit the 'Search Flights' button.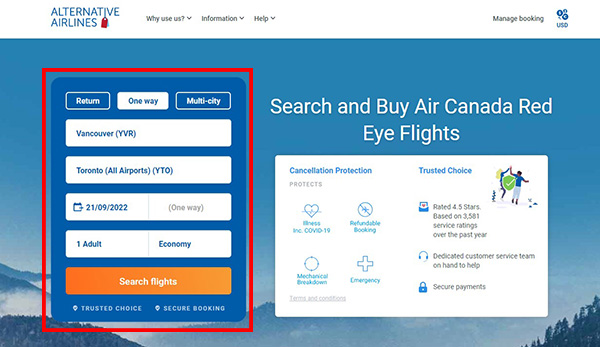 STEP
2
Once the search results have loaded, you can refine your search for red eye Air Canada flights by applying the 'Airline' filter either above the search results or in the 'Airlines' drop-down tab.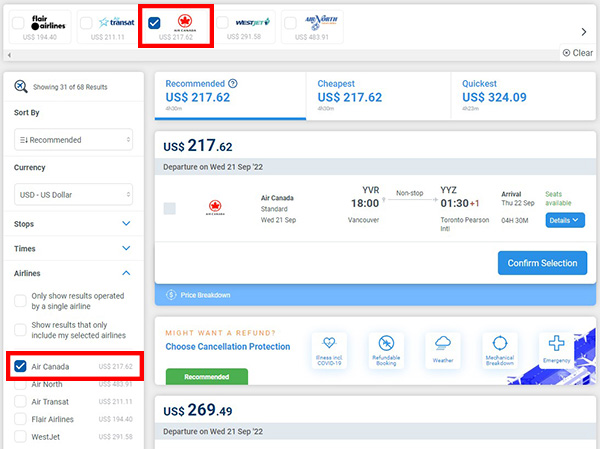 STEP
3
After you've applied the Airline filter, you'll only see available flights operated by Air Canada. To see red eye flights with Air Canada, you'll need to go to the 'Experience' tab and select the 'Show overnight flights only' option. Find the flight that best suits you and where you're ready, hit the 'Confirm Selection' button to proceed with your booking.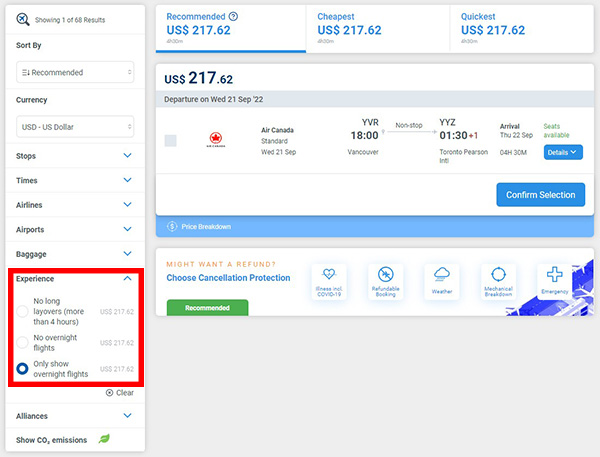 ---
Popular Red Eye Flight Routes with Air Canada Airlines
Red eye flights with Air Canada are usually between Vancouver and Toronto, or between the US and Canada. Below are the most popular red eye flight routes with Air Canada:
Vancouver ✈ to Toronto
Los Angeles ✈ to Montreal
Calgary ✈ to New York
Seattle ✈ to Toronto
---
Red Eye Flights
Tips
No one likes feeling exhausted and restless after a red eye flight - to avoid this you'll want to follow our handy tips below on how to make the most out of your red eye flight, whether it's for business or leisure.
Comfortable Clothing
If you're travelling for business, it's recommended that you keep the smart wear in the suitcase and instead wear loose, comfortable clothing. This can include a t-shirt, sweatpants, a hoodie and shorts - wearing these on your red eye flight will help you fall asleep quicker so you'll wake up feeling well-rested. Wearing soft, cotton socks will also help you fall asleep faster and improve blood circulation.
Accessories
You'll fall asleep easily if you take on board these essential accessories for your red eye flight - we suggest bringing a sleep mask, travel pillow and a warm blanket. You can also use a warm blanket provided by the airline if it's available. If the airline doesn't have any in-flight entertainment, it's a great idea to have some of your favourite TV shows or movies prepared to help you relax.
Seating
No one likes being interrupted from their sleep - this is why it's important to book a window seat on your red eye flight instead of a middle or aisle seat. This will prevent you being woken up by another passenger who may need to get up from their seat. You'll also have full control over the window shutters so that in the morning, the bright sunrise won't wake you up.
Eat Light
You may be feeling hungry before boarding your red eye flight - it's best to avoid a large meal and instead aim to eat a light meal that isn't oily or fatty. This will help your stomach settle easily so you can get to sleep faster.
Stretch
Finally, we suggest taking a walk around the cabin before getting to sleep to get the blood pumping in your legs. This will improve blood circulation in your body, especially since you'll be sitting for the majority of your flight.
---
Red Eye Flights with Air Canada
FAQs
Can I book Air Canada red eye flights?
Yes, and it's incredibly easy to do so when booking through Alternative Airlines. Follow our step-by-step guide from earlier to find out how to use our search form and apply filters to your search, helping you find the perfect red eye Air Canada flights for you. Air Canada regularly operates red eye flights across the US and Canada.
Can I buy Air Canada red eye flights on finance?
Of course, and guess what? You can book your Air Canada flights today and spread the cost over time right here through Alternative Airlines. We have over 40 payment methods to offer including popular 'buy now, pay later' finance plans such as Afterpay, Klarna, Affirm, PayPal Credit, Laybuy and more. You can find out more by checking out our Buy Now, Pay Later guide.
What time is a red eye flight?
Red eye flights normally depart very late at night from 10 pm to 1 am and arrive early in the morning from 5 am to 7 am of the next day. Depending on the route you have chosen, different flight lengths and times will be available.