Air Burundi Tickets and Reservations with Alternative Airlines
Book Your Air Burundi Flight Tickets and Find Some Amazing Deals
---
Air Burundi Update
Air Burundi ceased operations in 2009. As of September 2019, the airport is officially classified as 'restarting', although there has been no announcement by the airline as to when operations will resume. It was reported that the airline was set to resume flights to Rwanda in 2013 but, as of 2019, no new schedules or operations have been confirmed.
See our list of alternative airlines below to discover airlines that currently operate similar routes.
---
About Air Burundi
Air Burundi is the state-owned national airline of Burundi. Burundi, which is officially the Republic of Burundi, is a landlocked country within the African Great Lakes region. Before ceasing operations in 2009, the airline operated scheduled regional passenger services to destinations including Rwanda, Tanzania, and Uganda. Whether this route network is to be resumed in the future has yet to be confirmed.
The airline established in April 1971 and the first operations started in 1975. Air Burundi is owned by the government of Burundi.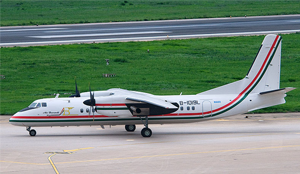 Image credit: Wikipedia Commons
---
Destinations
Before operations were suspended in 2009, the airline operated flights from its hub airport to the following locations:
Bujumbura International Airport, Burundi
Entebbe International Airport, Uganda
Kigali International Airport, Rwanda
---
Fleet
As of August 2019, the airline's fleet consists of the following aircraft:
1 x Xian MA60, with a passenger capacity of 52
---
Hub Airport
Bujumbura International Airport
Melchior NDADAYE International Airport, or 'Bujumbura International Airport' (IATA: BJM), is an airport in Bujumbura and Burundi's only international airport. Airlines that currently operate scheduled services to/from the airport include: Air Tanzania, Brussels Airlines, Ethiopian Airlines, Kenya Airways, RwandAir, and Uganda Airlines.
---
Alternative Airlines