Search and Buy AirAsia Zest Flights Online with Alternative Airlines
AirAsia Zest has now merged into AirAsia Philippines. To find out more information on AirAsia Philippines, visit our page.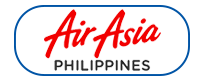 ---
About
AirAsia Zest was a low-cost airline based at Ninoy Aquino International Airport in Pasay City, Metro Manila in the Philippines. While the airline did fly internationally, it mainly offered domestic flights that linked Manilla and Cebu with a number of domestic destinations within the Philippines. In 2013 the airline became an affiliate of AirAsia Philippines and eventually merged with the airline 2016.
AirAsia Zest was founded in 1995 under the name Asian Spirit and initially flew two flights per day, flying to Boracay from Manila and Malay. This made AirAsia Zest the first-ever scheduled airline to fly to the island of Boracay, with only charter flights serving the airport before. In 2003, the airline became the flag carrier of the Philippines.
The airline later rebranded to Zest Airways and eventually, after forming a strategic alliance with AirAsia Philippines, rebranded again as AirAsia Zest. This is the name and brand that it flew under until it eventually merged into AirAsia Philippines in 2016.
Once the merger was complete, AirAsia Philippines took ownership of all of AirAsia Zest's routes and fleet and had controlled over what to keep and what to discontinue.
---
Fleet
AirAsia Zest's fleet consisted of 14 Airbus A320-200 at the time that it ceased operations. However, since it existed, the airline used many different aircraft types, including planes from British Aerospace, CASA/IPTN, de Havilland, Let, McDonnell Douglas, NAMC and Xian.
---
Baggage
Carry-on Baggage
AirAsia Zest passengers were permitted to take one and a personal item into the cabin. All carry-on luggage must have fitted in the overhead storage and/or under the seat in front of passengers.
The maximum weight of AirAsia Zest carry-on items was 7kg (15 lb) and the maximum dimensions were 56cm x 36cm x 23cm (22 n x 14 in x 9 in)
Checked Baggage
Checked baggage must not have exceeded:
81cm (H) x 119cm (W) x 119 cm (D) and 32kg in weight.
Domestic flights – 15kg/ 20kg/ 25kg/ 30kg/ 40kg
International flights – 20kg/ 25kg/ 30kg/ 40kg
Flights to/from the United States - 1 piece (20kg), 2 pieces (20kg each)
Passengers were advised to check the baggage allowance for their ticket when booking.
Checked baggage allowance could only be shared with guests in the same booking number. Each single item had to weigh less than 32kg (20kg for flights to/from the United States) and was subject to occupational health and safety requirements.
---
Destinations
Domestic
CITY
Cagayan De Oro
Caticlan
Cebu
Clark
Davao
Iloilo
Kalibo
Manila
Puerto Princesa
Tacloban
Tagbilaran
Destinations
COUNTRY
CITY
China
Chengdu
Guangzhou
Hangzhou
Kunming
Shanghai
Shenzhen
Hong Kong
Hong Kong
Indonesia
Denpasar
Japan
Osaka
Macau
Macau
Malaysia
Kota Kinabalu
Kuala Lumpur
Singapore
Singapore
South Korea
Busan
Seoul
Taiwan
Kaohsiung
Taipei
Thailand
Bangkok
Vietnam
Ho Chi Minh City