Airlines will always try to sit children with their parents (subject to check-in)
Some airlines will allow travel for unaccompanied minors. Please email us to check.
The fare is based on the child's age on the date of travel.
More detailed information can be found here Traveling with children
Most airlines will let infants travel with their parent(s) for free. However some airlines will charge up to 10% of the adult ticket price. Click on 'Price Breakdown' to find out more.
If you are pregnant, but due before the flight departure date, please contact us once your baby is born and has a name. We can then add him/her to your ticket.
Infants will not be given a seat. The airlines expect parents to travel with them on their lap.
Airlines regard infants as being under 24 months old.
The fare is based on the child's age on the date of travel.
More detailed information can be found here Traveling with children
MarcusPay
Cancellation Protection
Protects
Trusted Choice
65,000 happy customers
Rated 4.5 Stars. Based on 3,581 service ratings over the past year
Dedicated customer service team on hand to help
Secure payments
Cancellation Protection
Protects
Trusted Choice
65,000 happy customers
Rated 4.5 Stars. Based on 3,581 service ratings over the past year
Dedicated customer service team on hand to help
Secure payments
MarcusPay isn't currently available as a payment method.
However, if you are looking to book your flights today and pay at a later date, you'll be pleased to hear that we do have lots of finance options available. Find out more by clicking here:
Buy flights using MarcusPay
Flights can often be a substantial purchase. You want to reserve your flights today and lock in today's prices, but at the same time, the upfront cost can be daunting.
However, with MarcusPay, you don't need to worry about paying today. You can turn the total cost of your flights into monthly payments. You'll spread the cost over time, and only end up paying the total cost plus interest, without any added fees.
Perhaps the best part about choosing MarcusPay is that the first payment isn't due until at least a month after your booking is made. That's right, absolutely no down payment. This means that you can be reassured that your flights are confirmed, letting you book your hotel and plan all your adventures, without having to pay anything today!
Key Points
You can use MarcusPay for eligible purchases costing between $750 and $10,000
Choose to pay over 12 or 18 months
APRs range from 10.99% to 25.99%
Your first payment isn't due until at least a month after your purchase
Your rate won't change; each payment includes a fixed interest rate
How to buy flights with MarcusPay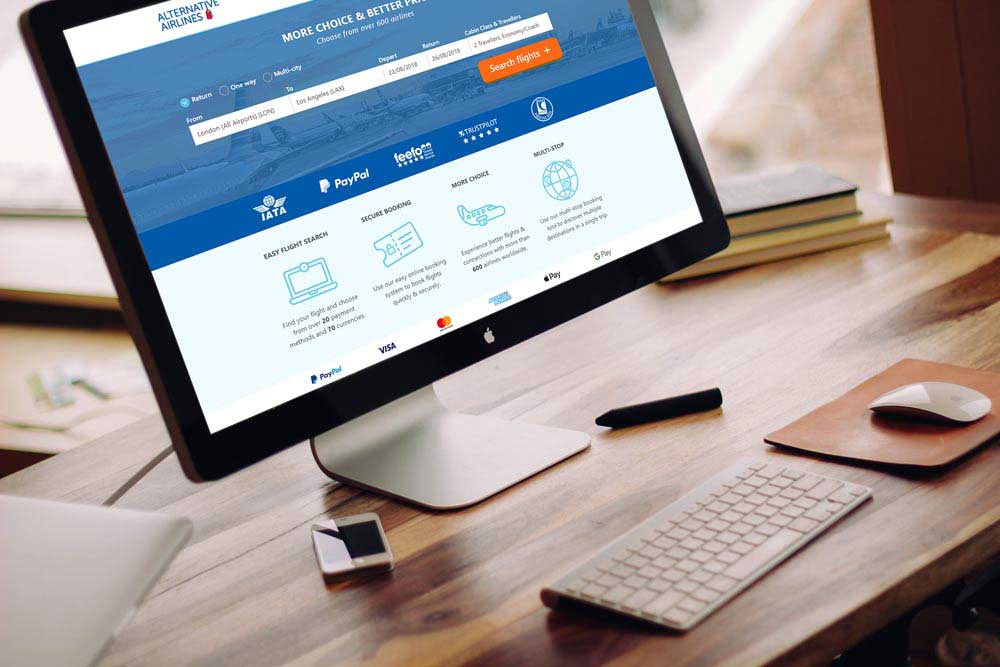 Please note that you can only use this payment option if you meet MarcusPay's conditions. More information on this can be found in the FAQ section below.
1

Use the Alternative Airlines' website to search for the right flights for you.

2

Enter your passenger details, then select MarcusPay as your payment method.

3

Complete the MarcusPay application. MarcusPay will let you know whether you are eligible for a loan.

4

If approved, you'll be able to book your flights, without paying anything today.
MarcusPay & Flights
Paying for flights using MarcusPay is easy! Simply use the search bar at the top of the page to find the perfect flights for you, then select MarcusPay at checkout. You'll complete a short, easy MarcusPay application. Once approved, you'll be able to finance your flight total with monthly payments through MarcusPay. You'll pay monthly, fixed rate loan payments, without any additional fees - as long as re-payments are met.
Why buy flights with MarcusPay?
There are lots of benefits to choosing to book your flights and pay using a MarcusPay payment plan. One of the top benefits has to be that there is absolutely no deposit required. Flights can be expensive, yet it's hard to book your accommodation or start planning your trip without having your flights confirmed. You'll be able to reserve your flights today, and even travel, while spreading the cost over monthly instalments.
Other benefits:
Fixed interest rate
No fees
Customer support
Transparent monthly payments
MarcusPay Flights

FAQs
Will I be accepted for a MarcusPay loan?
To be accepted by MarcusPay, there are a number of conditions that need to be met. You must have a valid Social Security Number or Individual Tax ID Number. MarcusPay will only accept applications from consumers who are over the age of 18 (19 in Alabama, 21 in Mississippi and Puerto Rico), and may ask you to verify your identity by providing a photo ID, such as a passport or driving licence, issued by a US state or territory.
Will using MarcusPay impact my credit score?
Simply exploring your loan options will have no impact on your credit score. However, once you have selected and completed your MarcusPay loan application, this may impact your credit score. MarcusPay will keep you informed of this during the process.
What APRs does MarcusPay offer?
MarcusPay offers APR rates between 10.99% and 25.99%. Please be aware that only applicants with an excellent credit score will qualify for the lowest rates. More information can be found on MarcuPay's website.
How do I manage my payments?
You can log in to your account on the MarcusPay website to track your payments.
Can I fly now and pay back later?
Yes! Once you've confirmed your booking, the flight ticket is yours. You'll be able to travel as scheduled, even if your flights are before your first payment date. Your first monthly payment will be due approximately one month from the date on which Marcus receives confirmation of your flight booking.
Can I use MarcusPay to fly internationally?
Yes, if approved, you can use MarcusPay to fly with any airline available on the Alternative Airlines website. We ticket over 600 global airlines, including American Airlines, British Airways, Delta Air Lines, Norwegian, and Emirates.