James Caan praises """"unspoilt"""" Philippines
Entrepreneur James Caan has praised the Philippines as a tourist destination, describing the country as "unspoilt", an assertion that may lead more Brits to book Philippine Airlines flights for their summer holiday.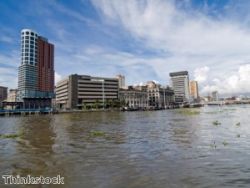 He observed that while his break in the country was not a "polished" tourist experience, there were many attractions in the Asian nation.
Among the activities he took part in while visiting the country were spa therapies and a trip on a glass-bottomed boat.
The property magnate acknowledged that the location was an unusual one for a break because it was "well off the beaten tourist path".
Mr Caan stated: "The Philippines attracted us because they seemed so unspoilt."
He explained that during his holiday in the country, which he may have reached using Philippine Airlines, he coupled a trip to three cities with a stay at a resort to relax.
According to the nation's Department of Tourism, the Philippines is Asia's dive capital and it has one of the highest densities of coral in the world.
Use Alternative Airlines to book your cheap flights to Manila