Fabulous Fares from London to South America on Aerolineas Argentinas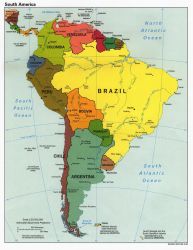 We have just received some fabulous low fares to South America on Aerolineas Argentinas from London Gatwick.

These fares are subject to availability, apply to flights taken between 25th February and 30th June 2011 plus offer the chance for a free stop over in Buenos Aires.

Here are the destinations covered and the lowest fares including taxes currently available:

Return fares From London Gatwick to:
Buenos Aires from £700
Montevideo from £734
Asuncion from £999
Santiago de Chile from £750
Santa Cruz, Bolivia from £957
Porto Alegre from £854
Sao Paulo from £888
Rio de Janeiro from £895
Ushuaia from £846
El Calafate from £805
Mendoza from £706
Iguazu from £807

Aerolineas Argentinas say:
"N.B. fares and taxes are subject to change. We offer: Free stop over in Buenos Aires in either direction Generous baggage allowance Complimentary meals & drinks on board (alcoholic and non alcoholic) Free seat allocation Gluten free meals (on domestic and regional flights) Online check-in (on domestic and regional flights) Aerolineas Plus frequent flyer card Discount on the Visit Argentina pass! Free transfer EZEIZA-AEROPARQUE (valid for those on a same day connection) Fare available to small groups of up to 15 passengers (subject to availability. Full names required at the time of making booking)."
We say:
"Don't delay these fares won't be around long... book now for the best availability to the world's most fashionable playgrounds !"