Blue Air to Bucharest and back
Travelling to Bucharest from London for Business, Blue Air was the best choice due to the timings of the flights and most importantly the low cost!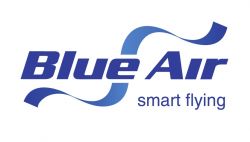 I live near Gatwick, so a direct train to Luton Airport Parkway made the journey to and from Luton Airport a lot easier then I first thought.
Unfortunately online check in is not offered, but it was not a problem as the check in staff at Luton airport were very efficient and helpful, hence the short queue moved quickly. With our seats allocated at check-in, there was no rush at the gate even though the flight was near enough full. Having ample space in the comfortable seat, the 3 or so hour flight flew past. I was lucky enough to have a window seat so I was able to put my headphones in and stare out of the window all the way - but that's just me!